FOR SEAMS THAT LAST A FABRIC'S LIFETIME. GUARANTEED*.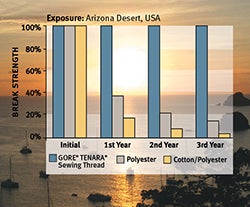 Guaranteed to Last
Unaffected by Sunlight
GORE TENARA Sewing Thread maintains its strength even after regular exposure to UV sunlight. UV resistance is built into the thread, and is not a coating or additive that can wear off.
Weather-Proof
GORE TENARA Sewing Thread remains flexible and strong in extremes of hot and cold. It won't absorb water and it resists acid rain, salt water, pollution, snow and freezing.
GORE TENARA Sewing Thread will outlast the fabric into which it is sewn. Gore guarantees it!*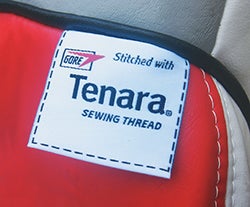 Premium Quality Brand
Enhance Your Reputation
Using GORE TENARA Sewing Thread tells your customers that they are buying a premium product built to last with durable seams and a brand that's backed by more than 25 years of experience from the company that invented it.
To help you promote the benefits of GORE TENARA Sewing Thread, Gore has industry-leading marketing support and materials.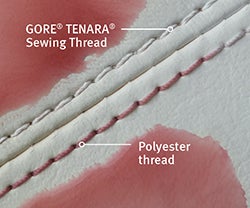 Beauty That Endures
Easy to Clean
GORE TENARA Sewing Thread is unaffected by acids, alkaline solutions, bleach and cleaning chemicals and it will not stain.
Colors Will Not Fade
Made with non-fading pigments that are highly resistant to light, the colored thread retains its bold appearance over time. GORE TENARA Sewing Thread is pigmented–not dyed. Due to its exceptional material properties, TENARA thread is extremely color-fast.**