Revolutionizing cover making with 3D technology!
At ROBSHIP, we use two high-tech devices, the "3D scanner" and the "CNC cutting machine," to make covers with a tight fit that is incomparably better compared to our previous covers.
【 Modeling with a highly accurate 3D scanner 】
Multitude of things made possible with 3D modeling
Remarkably higher accuracy of grasping the hull shape
Optimal design: shrinkage of the hull as a result of degradation over time considered
Panels that perfectly fit gentle curves
Functional designs with customizable panel divisions and aperture positions
Once modeled, changing designs is easy
Effective placement of reinforcement patches with rigging layout taken into account
No waste in cutting out panels: manufactured with low material costs
Even if you get a bigger boat, it can be modeled without any problem
Time required for measurements and product price drastically reduced
The shape and size of the boat varies from boat to boat. The shape of the hull and rigging is also multifarious depending on the boatbuilder. ROBSHIP can scan these diverse boat shapes accurately. By 3D modeling them, we can produce panel design plans that are literally on another dimension compared to paper pattern measurements. We have experience with 3D scanning and producing covers for boats over 12 meters.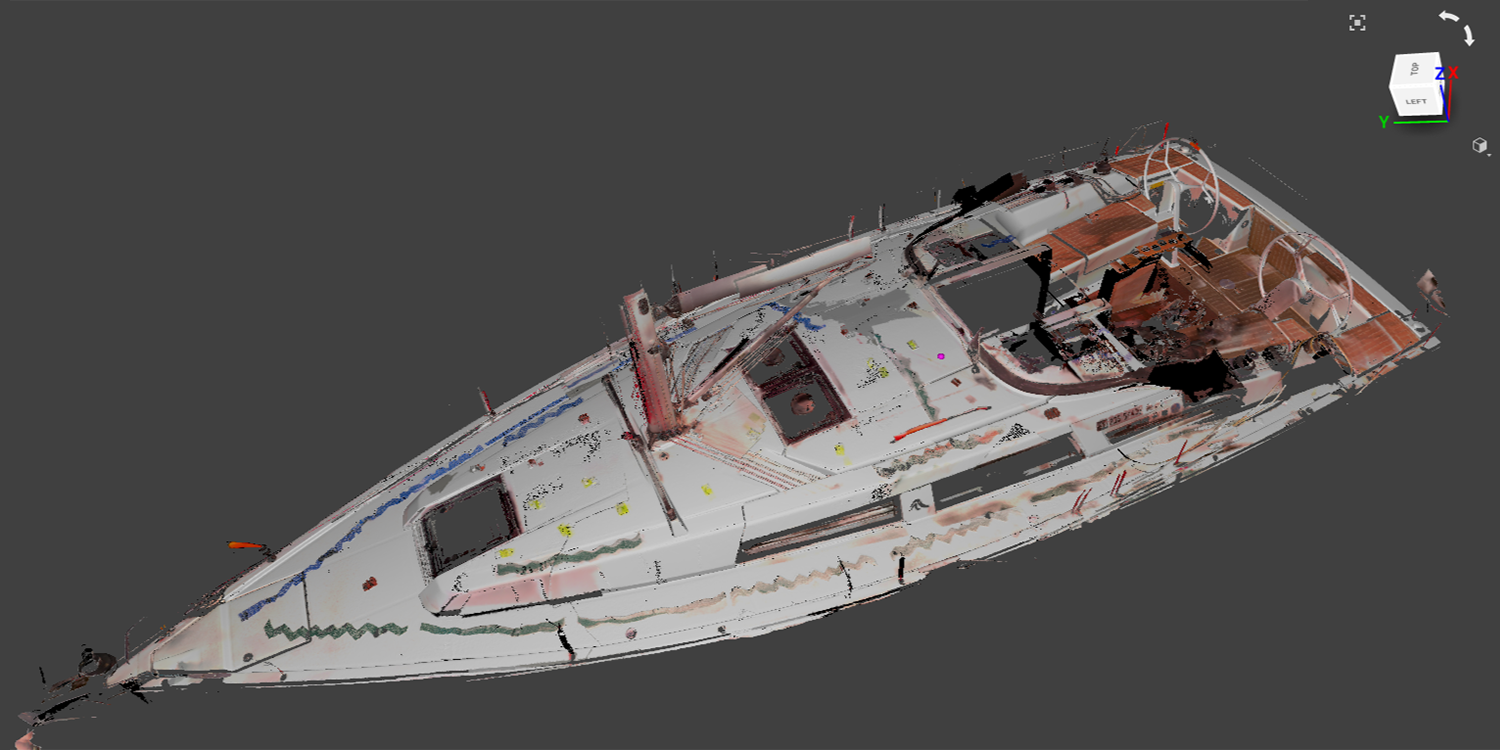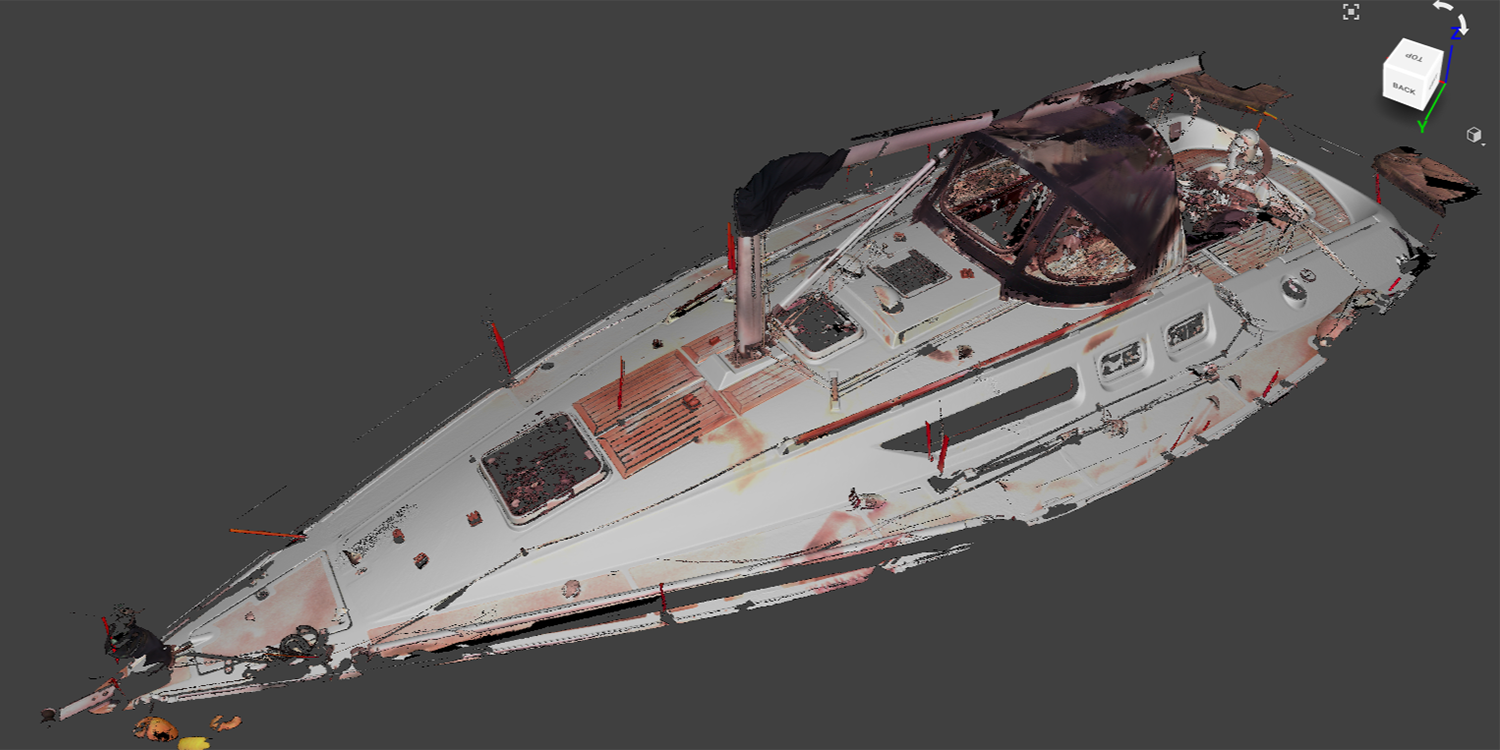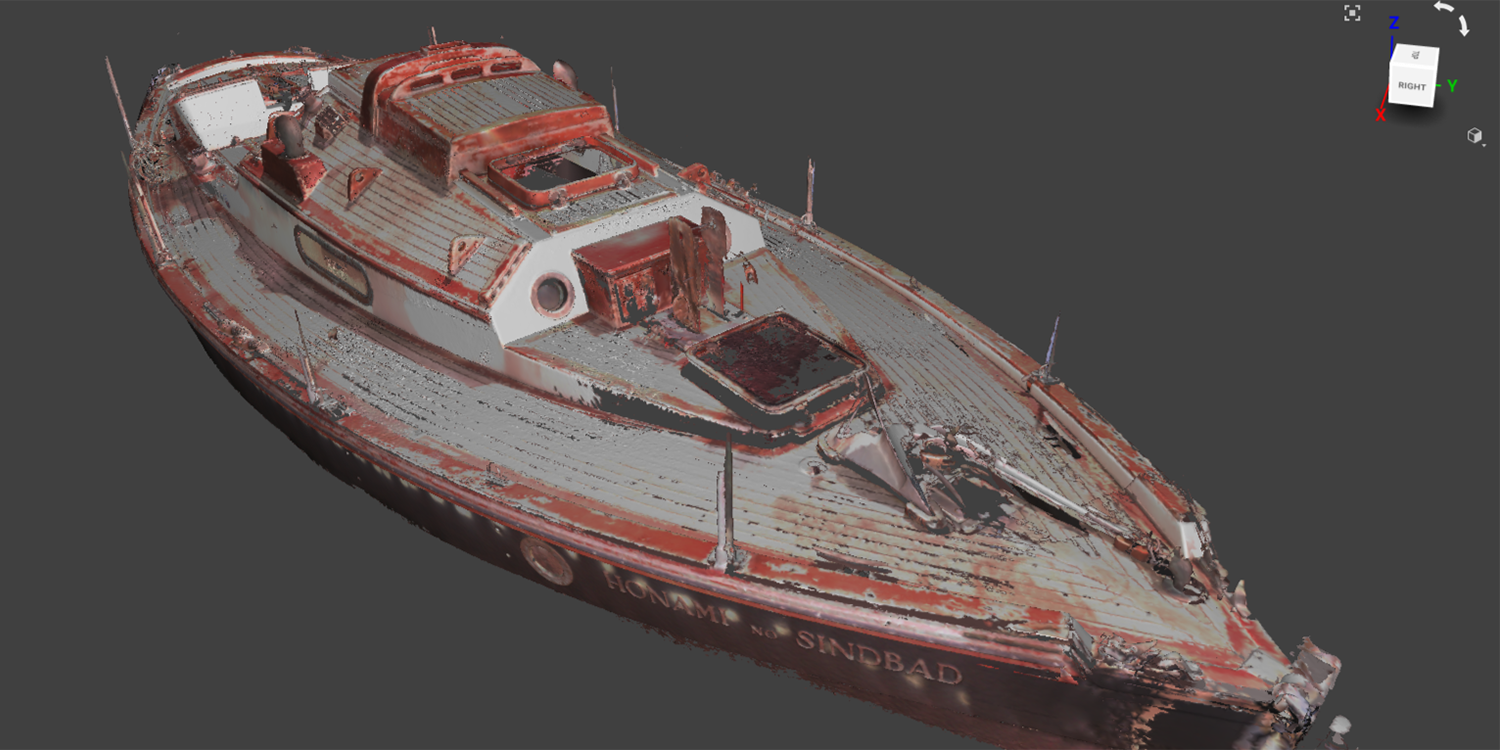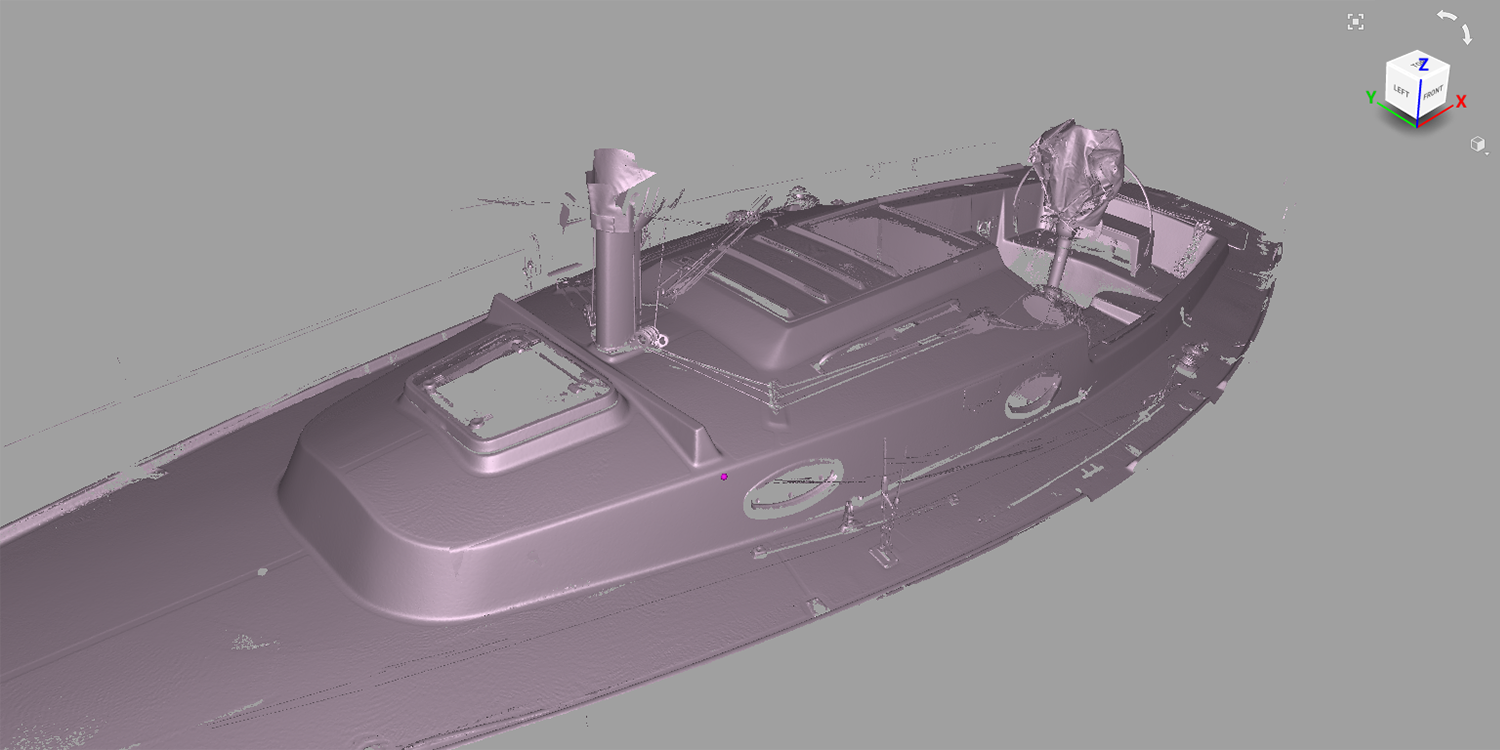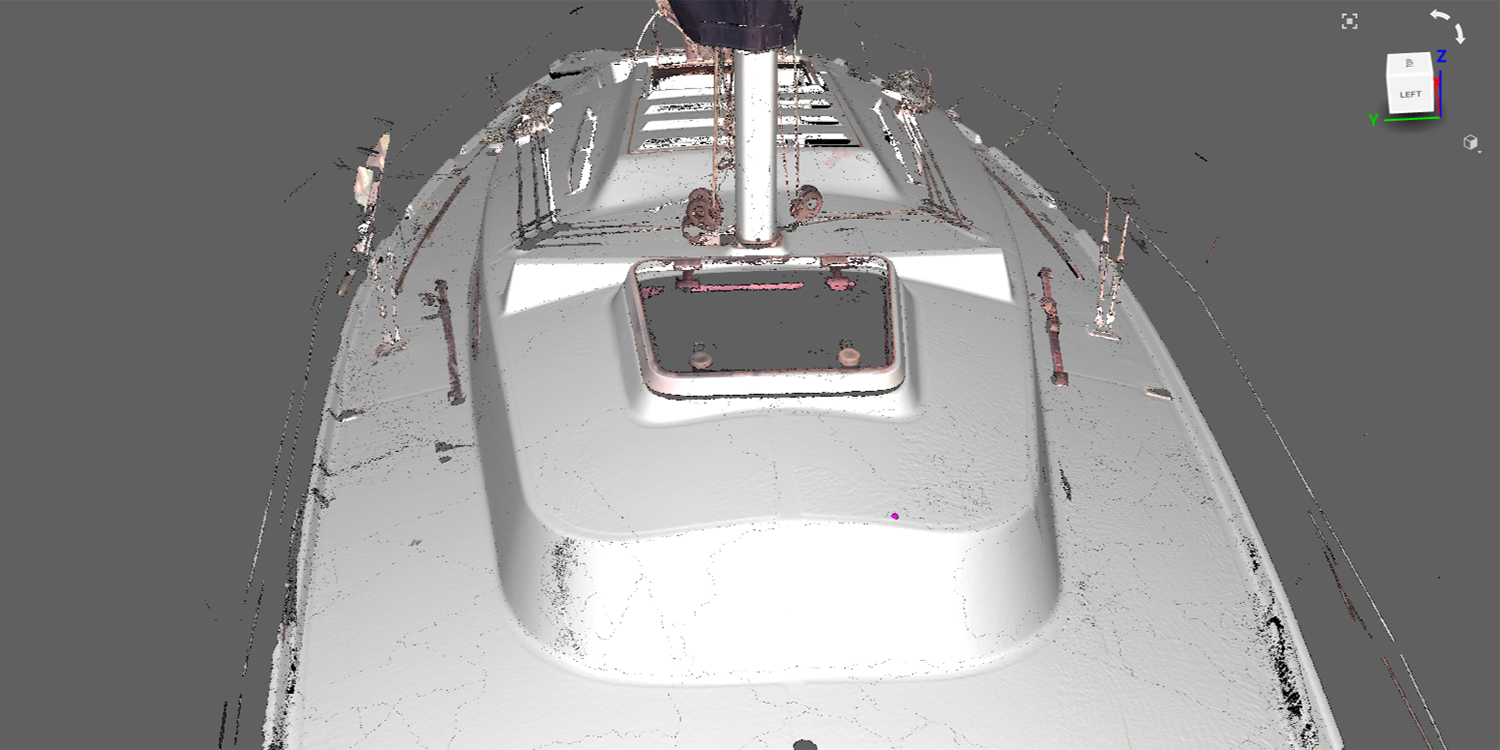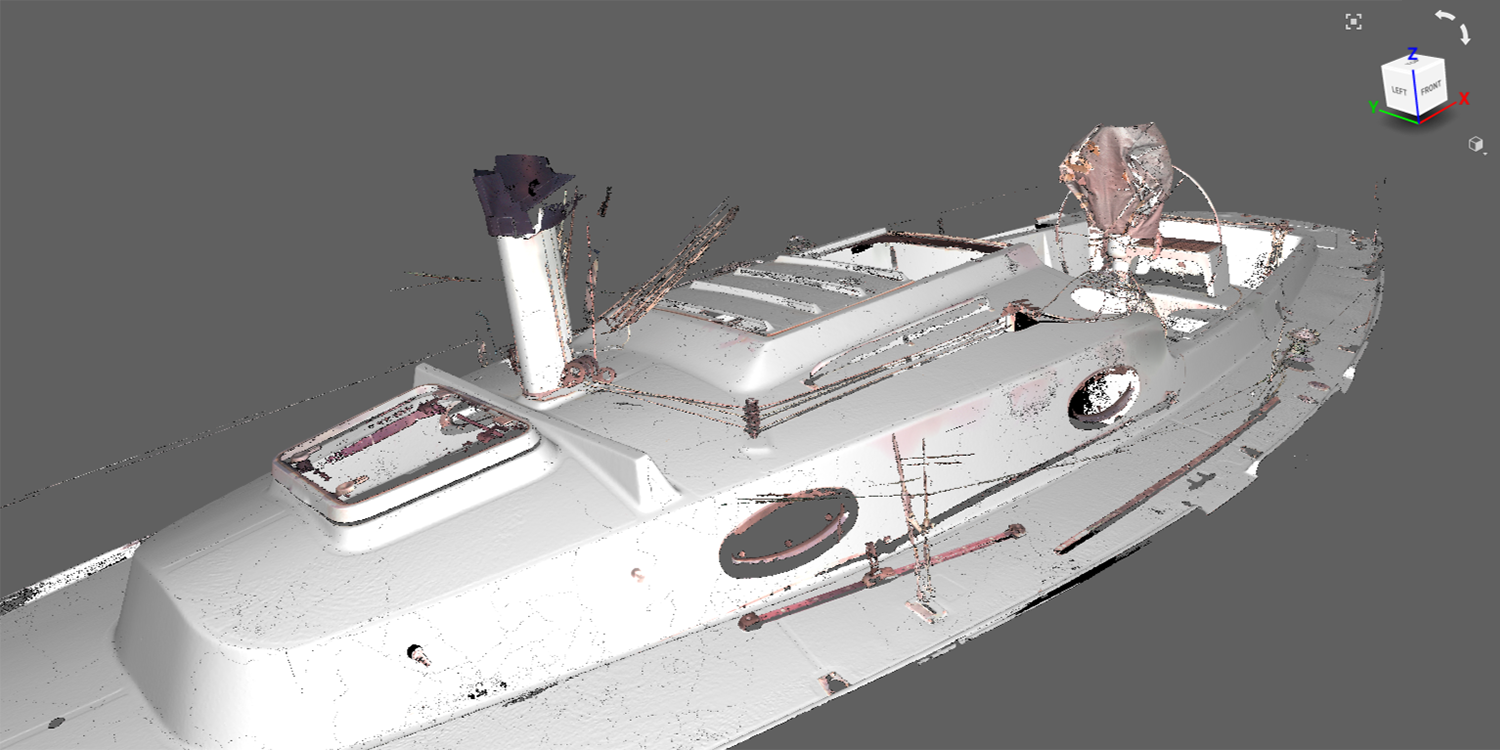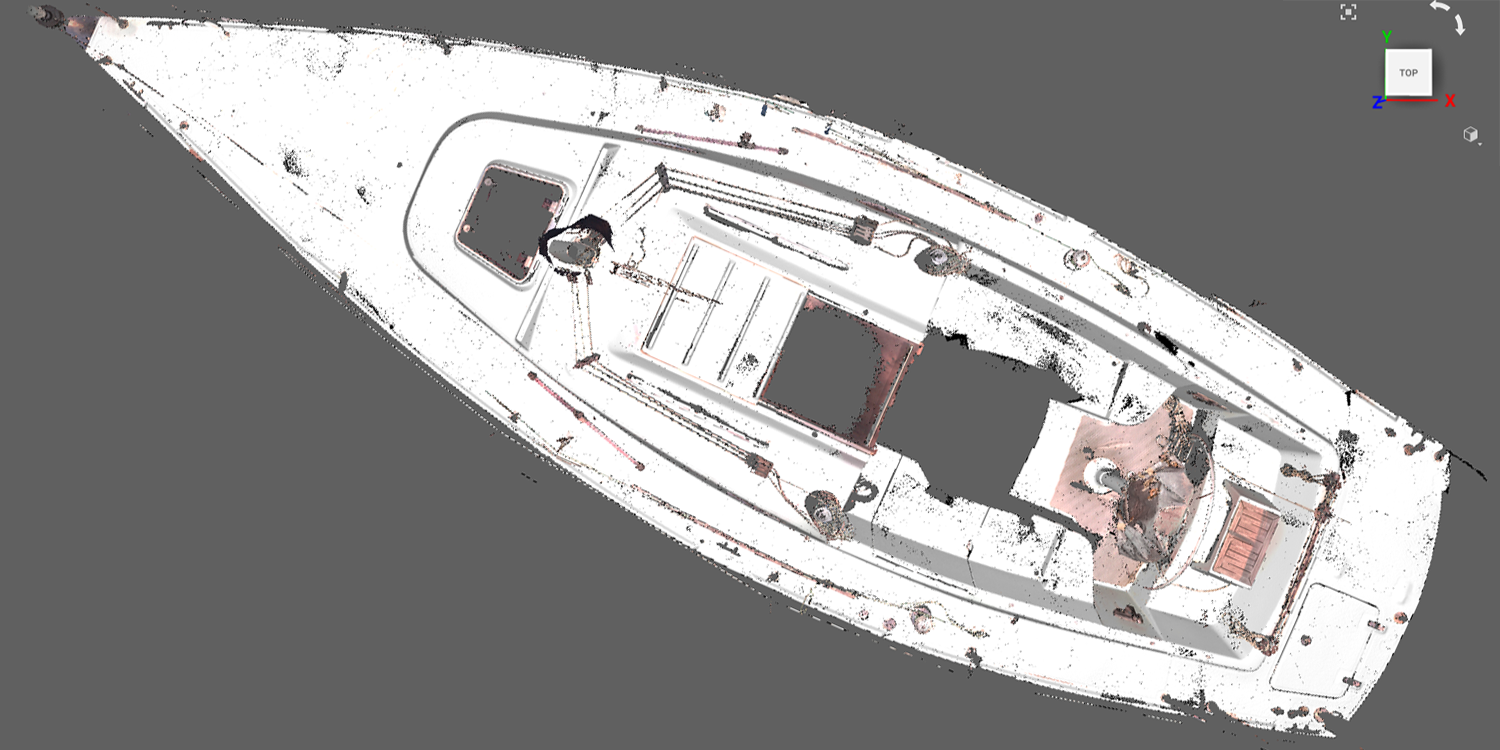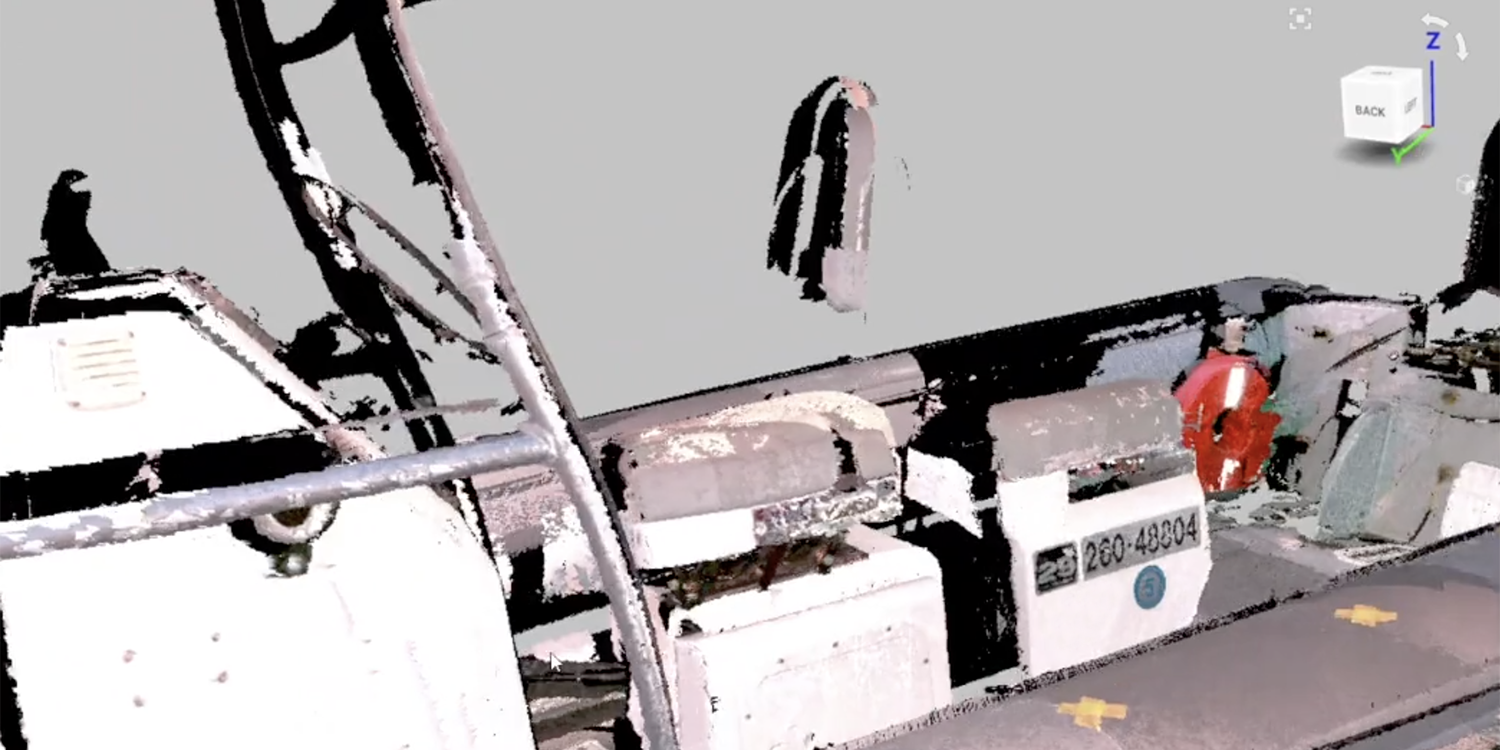 Creating panel designs from the boat models we scanned
Based on the 3D-scanned boat model, we create fabric panel drawings for each part that will become the cover's "parts". In our old manufacturing method, we could not reflect the detailed shape of the boat in the design, so we had to deal with this by oversizing the design. This caused the covers to become too baggy and created gaps. However, the 3D modeling allows precise adjustments in increments of millimeters. Naturally, the fabric is flat, and the design is also flattened so that it can be cut out. Patch attachment positions and sewing guides are also written on it.
【 CNC cutting and sewing by skilled artisans 】
Even complicated cuts made precise with high-tech
CNC stands for Computerized Numerical Control, and ROBSHIP uses a large CNC machine manufactured by Aeronaut. The machine arm movements are computer-controlled so the panel design can be cut exactly as designed. The fabric is sucked onto the worktable by vacuum suction, so there are no cutting defects during the cutting stage. By using these technologies, we can cut out panels that we created in the 3D modeling stage maintaining its high quality design without degradation.
Refined technologies to realize your ideal
ROBSHIP has a manufacturing base in Cebu, and operates a large-scale facility that handles not only its own products globally, but also subcontracted manufacturing from multiple manufacturers. Highly skilled sewing artisans in Cebu precisely follow the sewing guide to create covers according to the design plans. By utilizing high-tech equipment and skilled artisanship throughout the entire process from hull scanning to sewing, we deliver consistently high quality covers that perfectly fit boats with complex and unique features.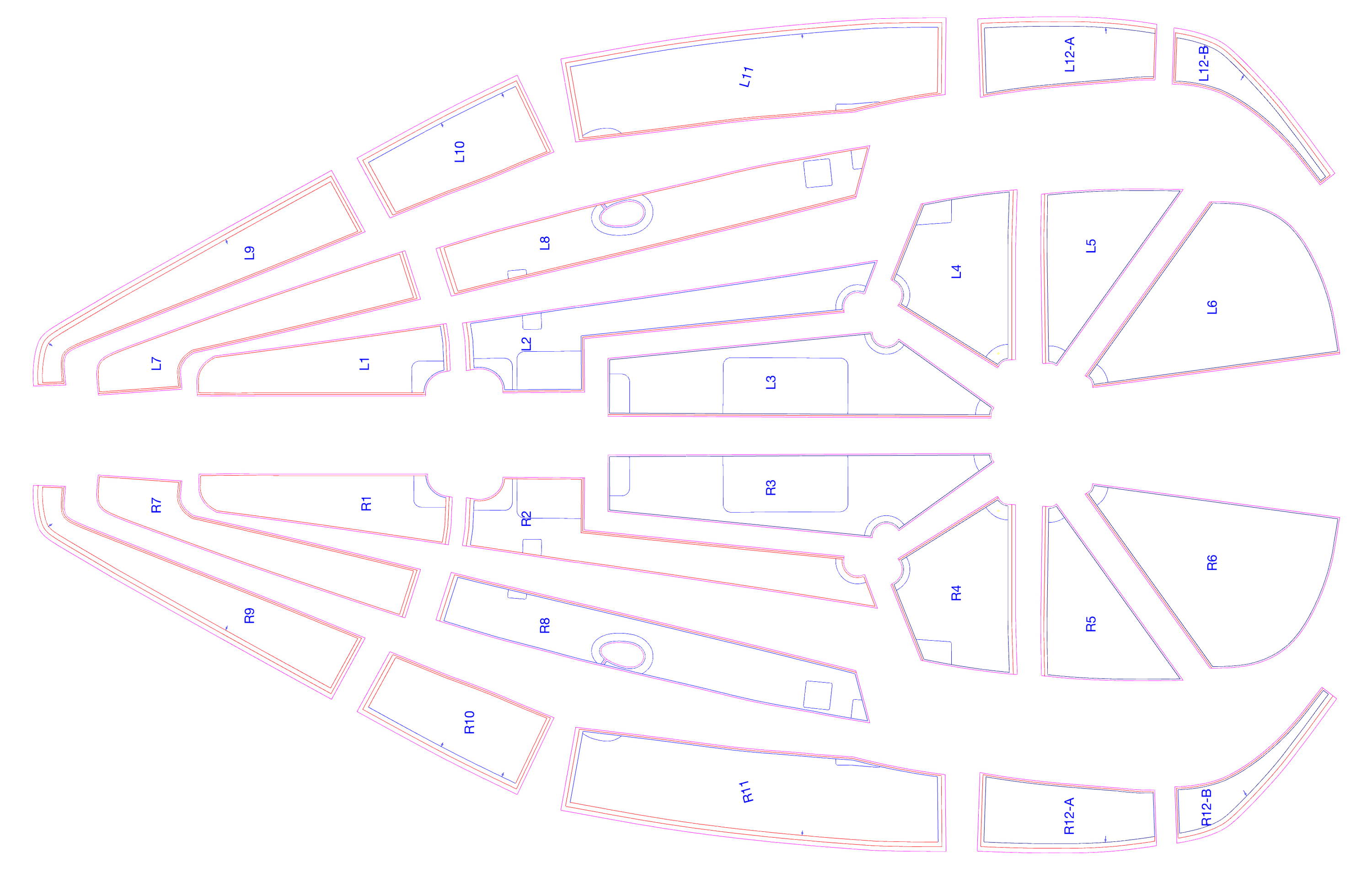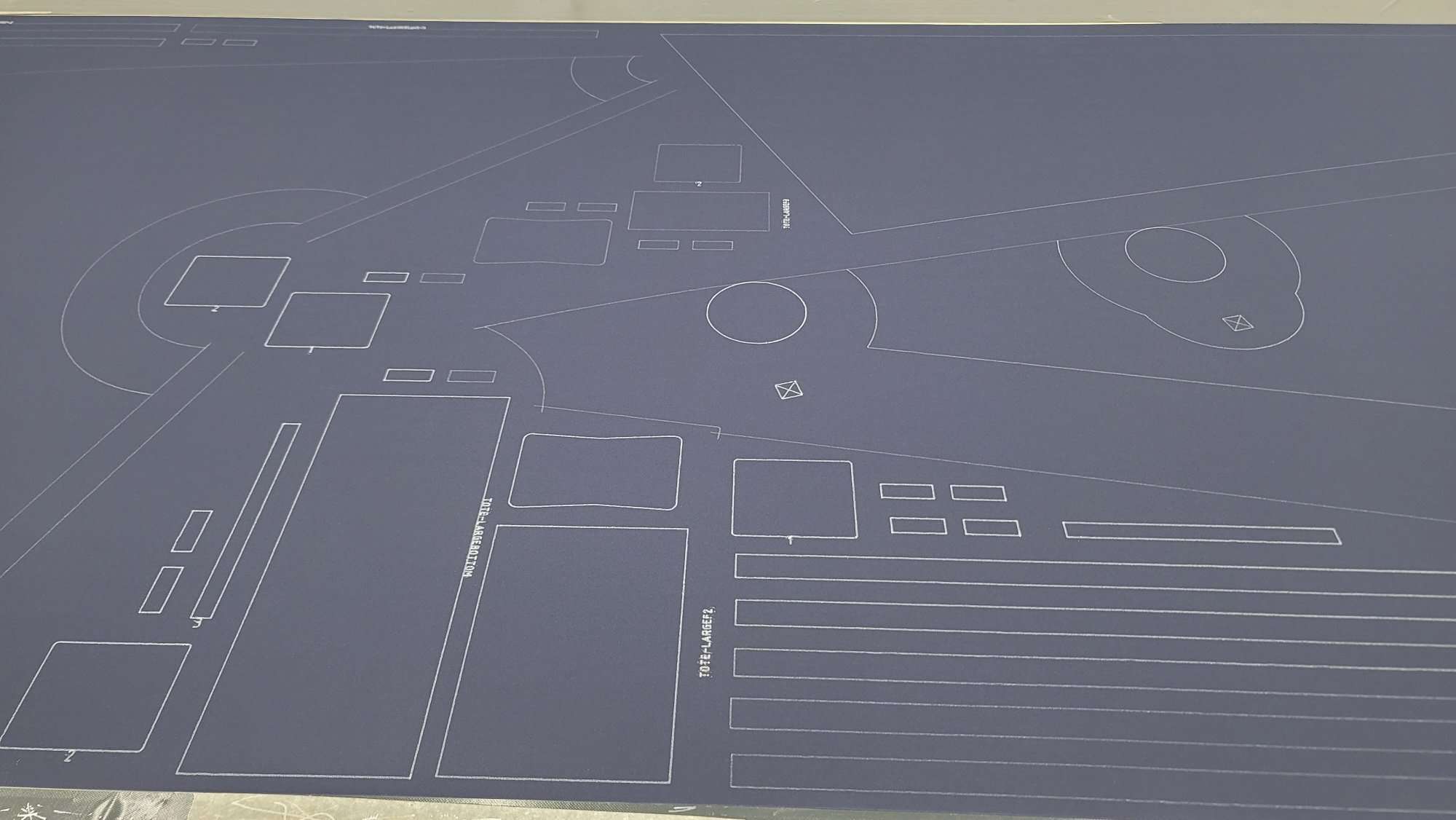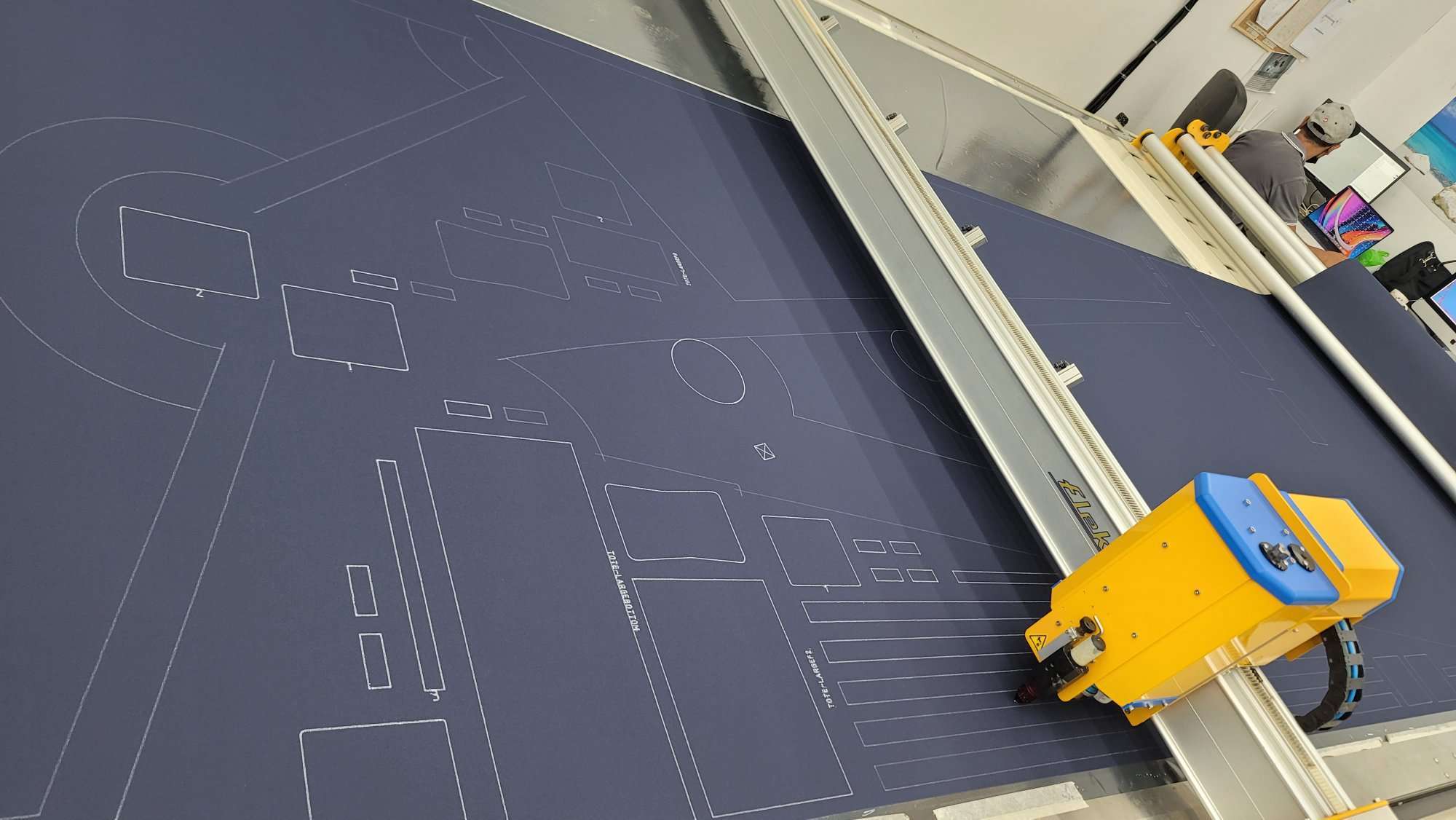 Straight A+ for fit, feel, and durability
ROBSHIP cover fits so well that the hull shape is clearly visible. This perfect fit gives the cover a much higher class appearance than our previous covers that were baggy. Our new covers also have many advantages in terms of performance and durability.
What's good with a better fit?
Looks much more stylish
High resistance against shrinkage, which is a shortcoming of acrylic fabric
Reinforcing patches stay in their optimal positions because they do not shift
High protection: Low risk of rainwater infiltration
Less affected by wind and less likely to flap during transportation
Enhanced detail quality with high-tech
Designs that fit winches, pedestals and protruding parts made possible by manufacturing using 3D designs
Patch size minimized
Patch placement in the optimal position
Designs with less cost and increased life span
Patches thoroughly placed behind grommets and zippers to prevent damage to the boat body
Even if it is the same boat, a single change in the position of the rigging can change the layout of the cover. Hence, ideally, boat covers should be a completely one-off custom product. We make boat covers with lots of specifications according to characteristics of each boat. These are some samples of boat covers that we actually made with 3D modeling.
The boat has two distinctive structures: a tall arched pedestal and a pedestal for a self-tacking jib rail on the foredeck. The cover has "semi-circular bumps" and "cat-ear-shaped protrusions" that fit these perfectly.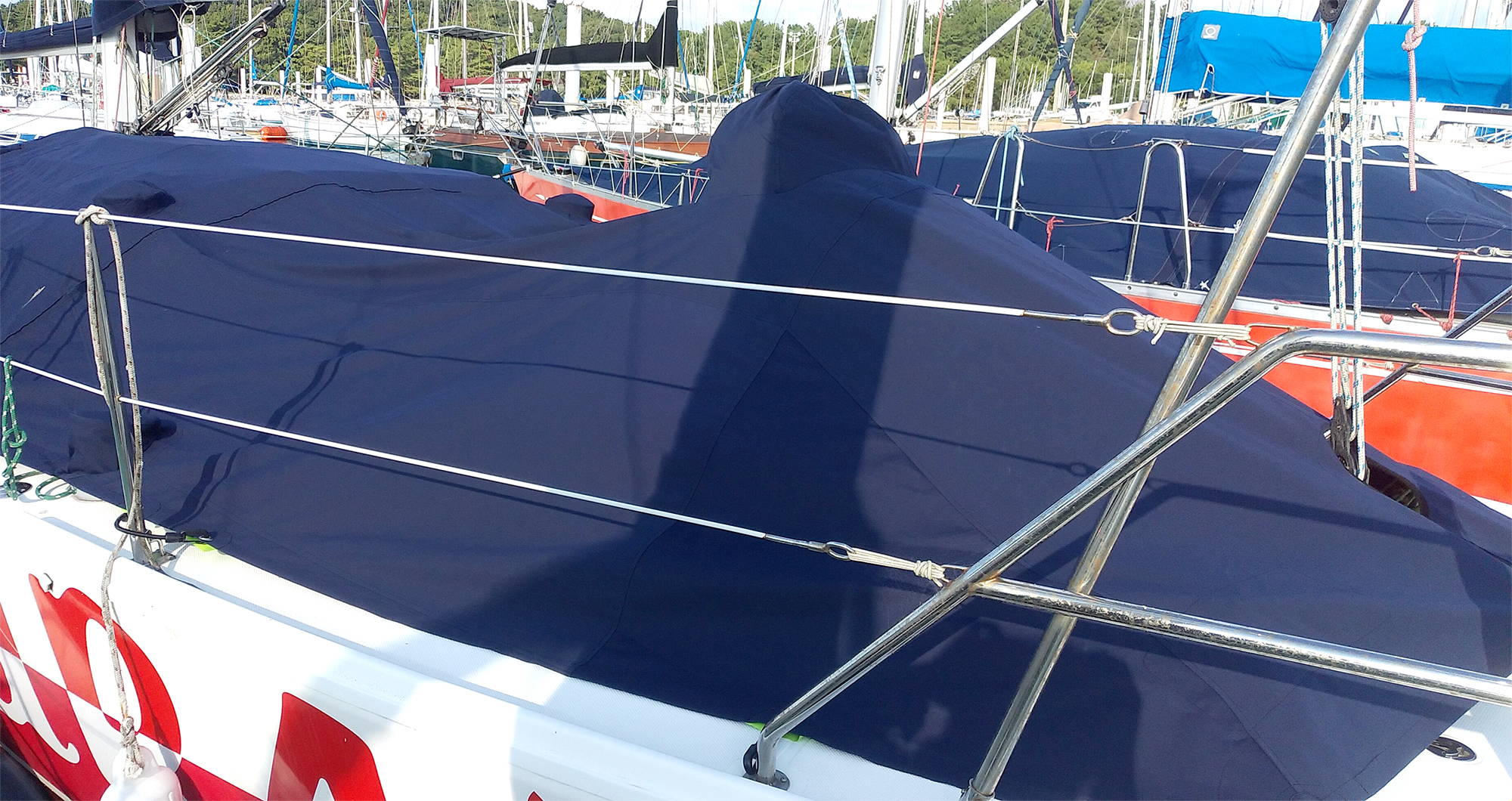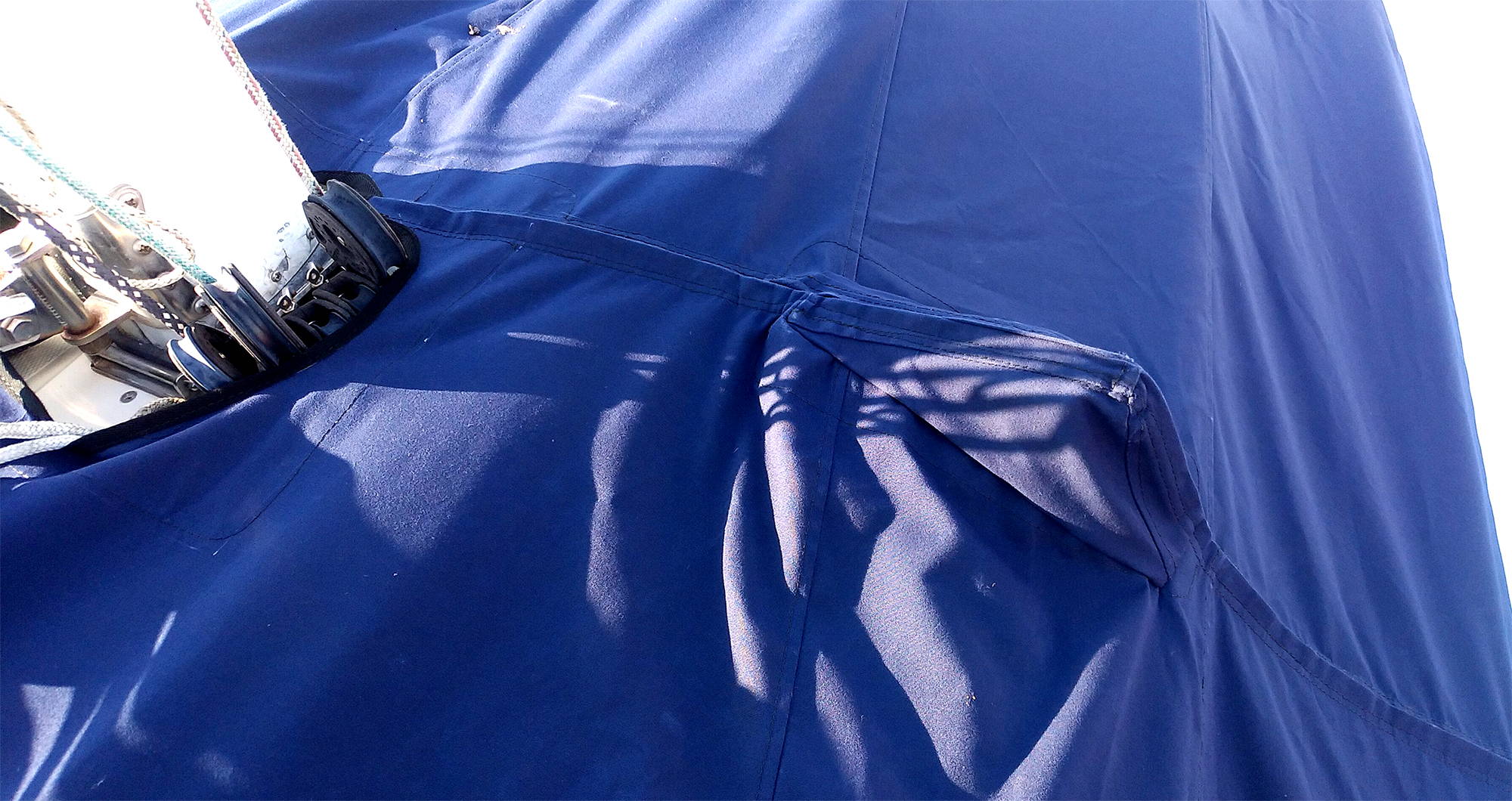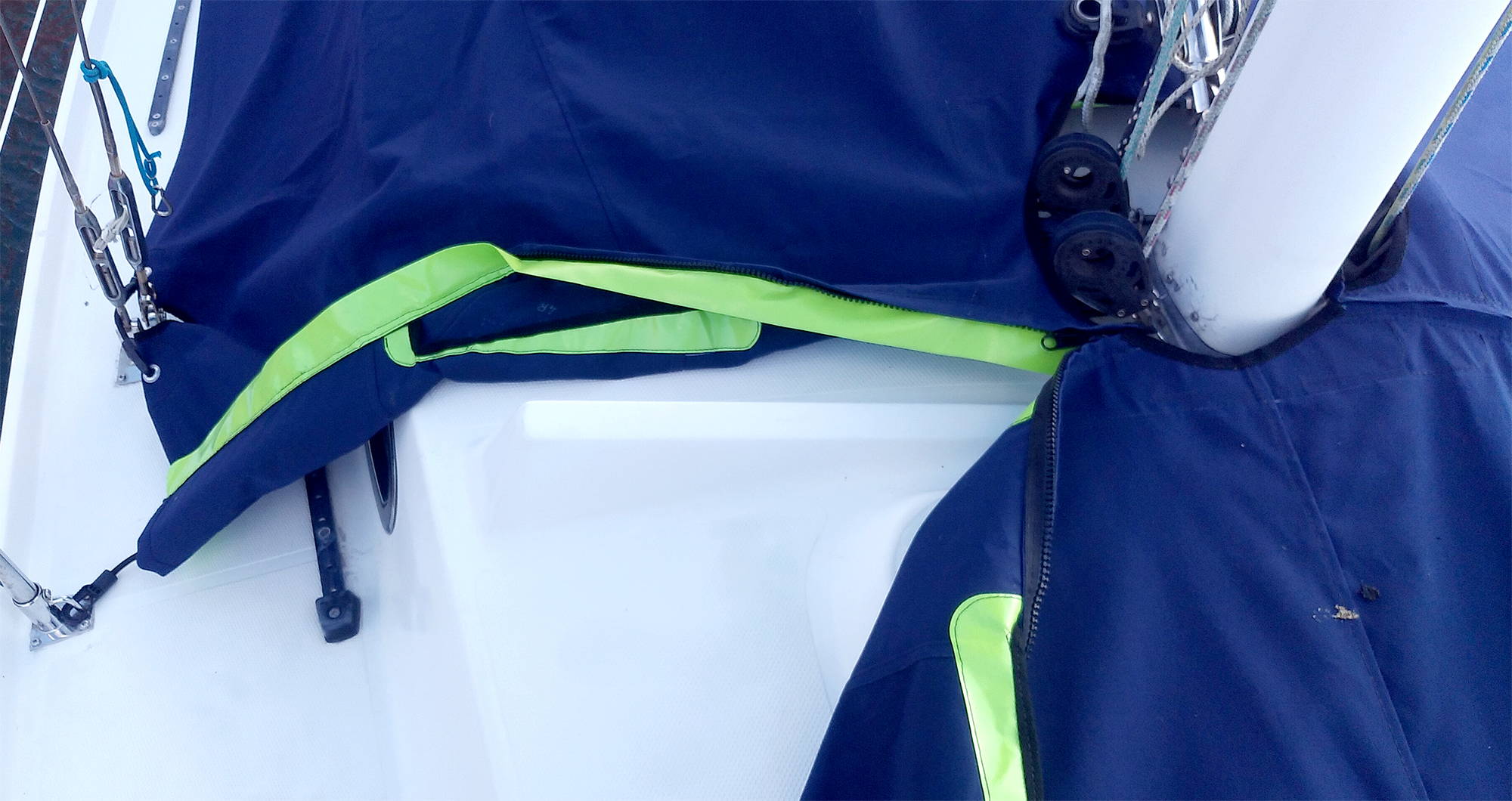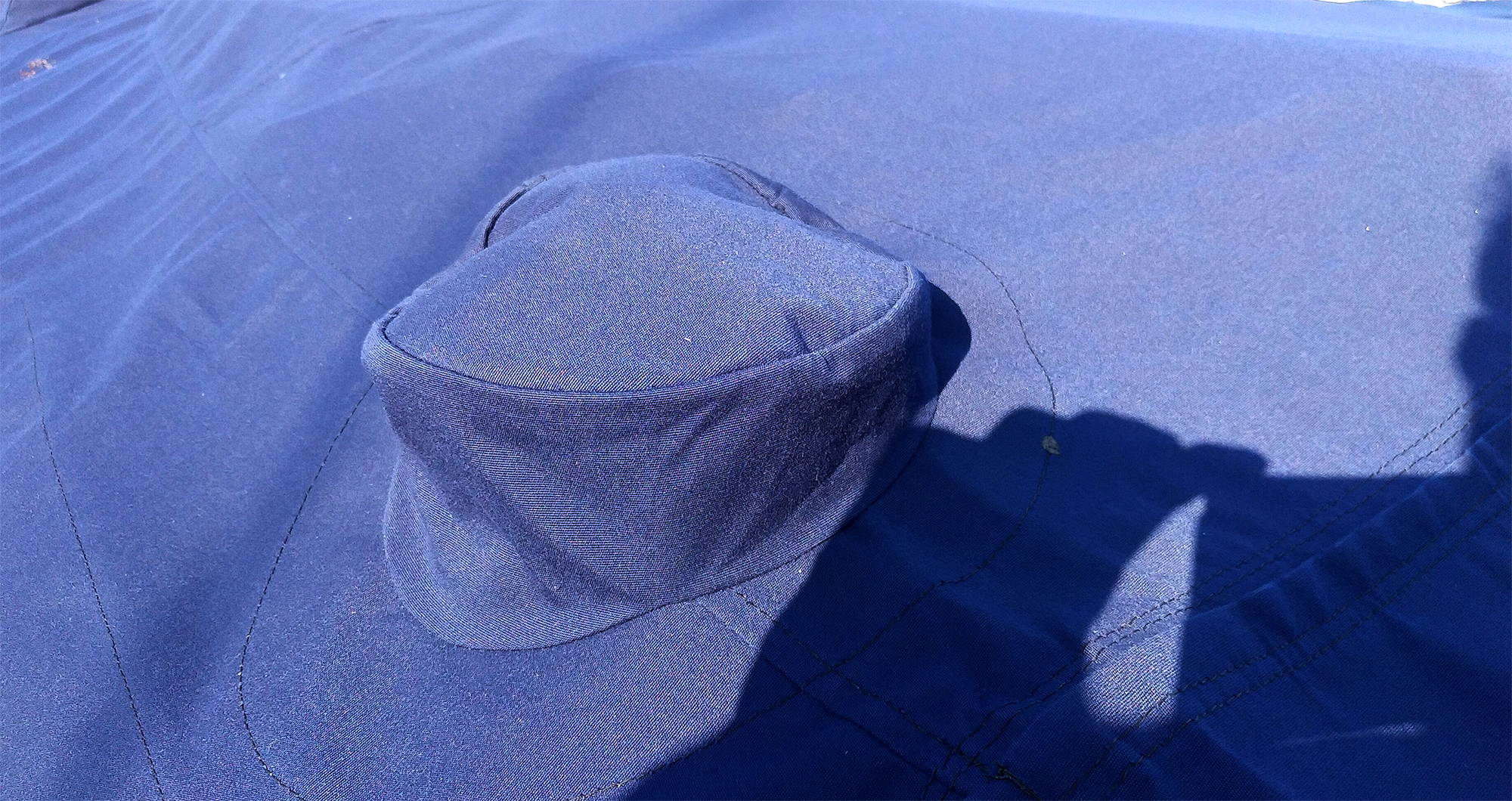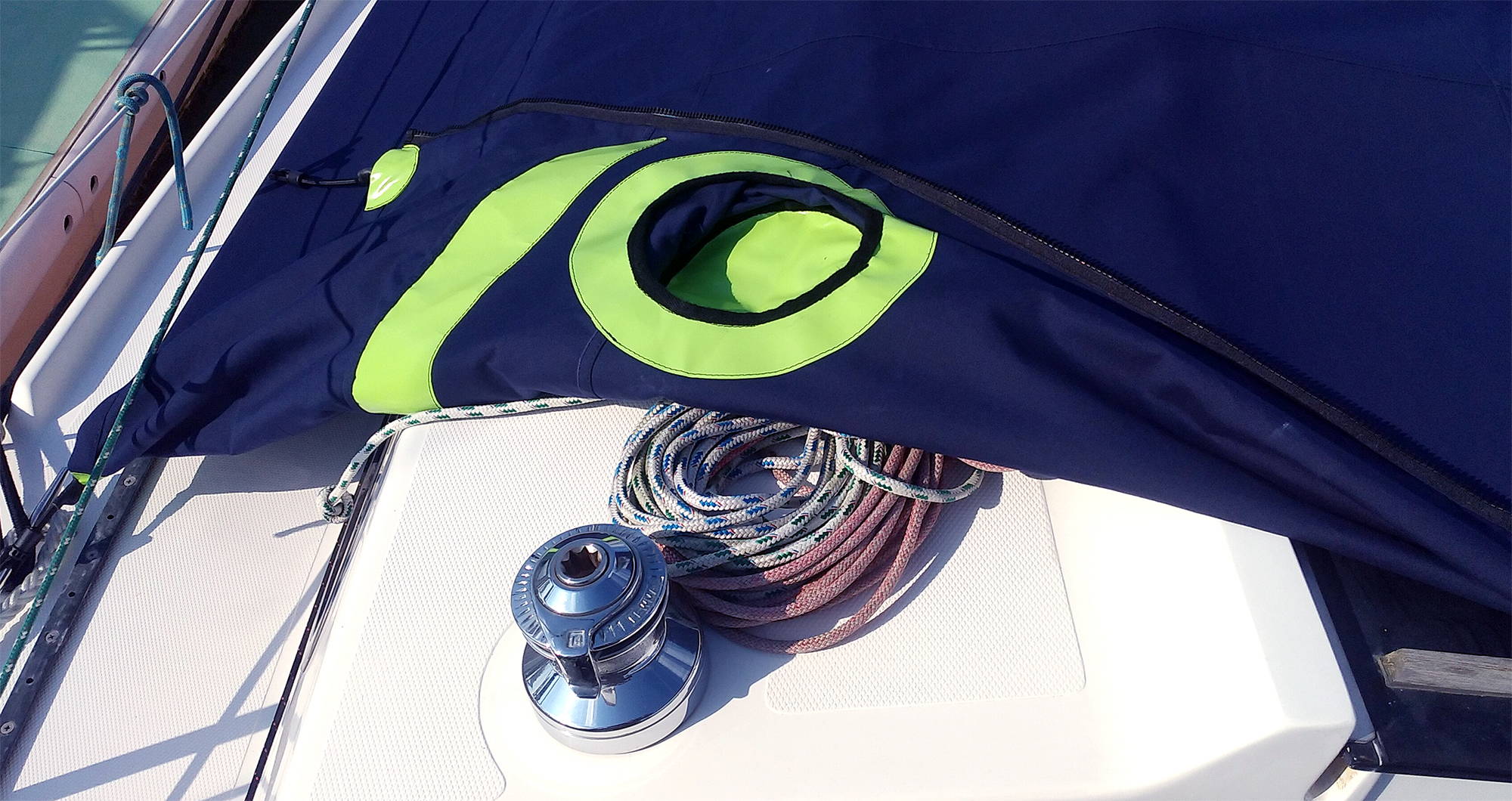 Each part of the back side, especially the riser of the winch, is reinforced with patches. There is a zipper opening around the penetrations of the stays, so attaching and detaching the cover is simple and easy. The cover can be easily tensioned and pinned with the hook-fixed shock cord placed based on the position of the stanchions.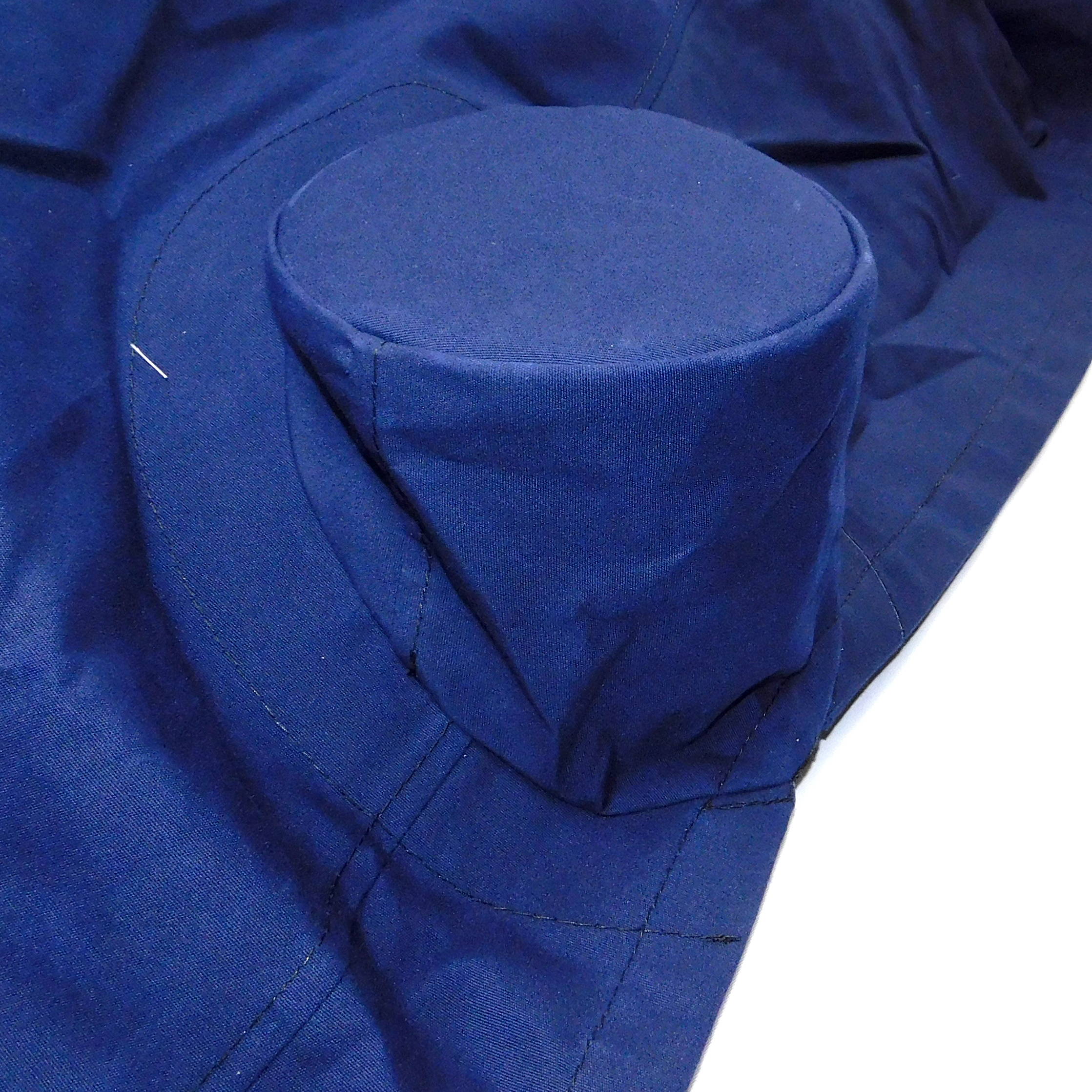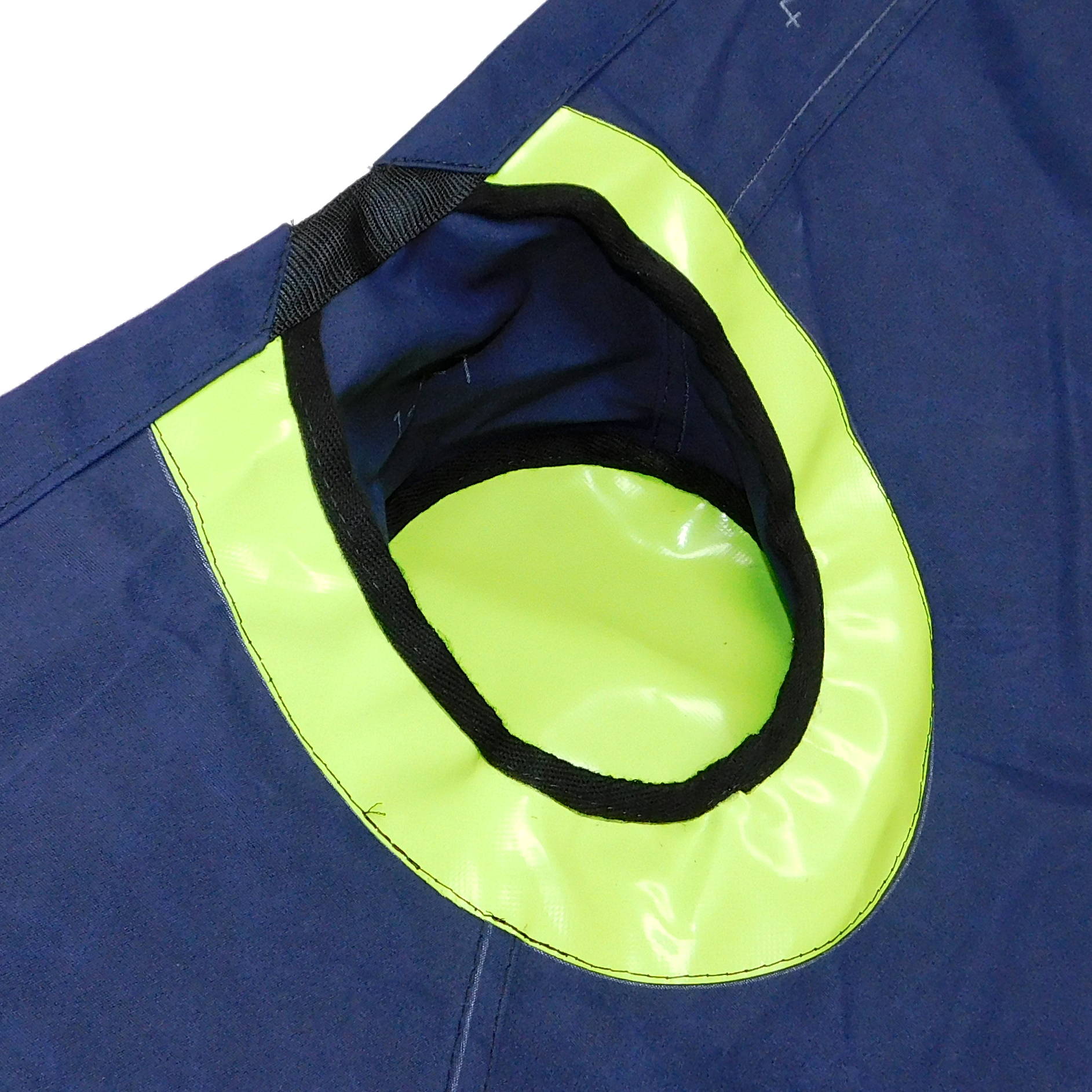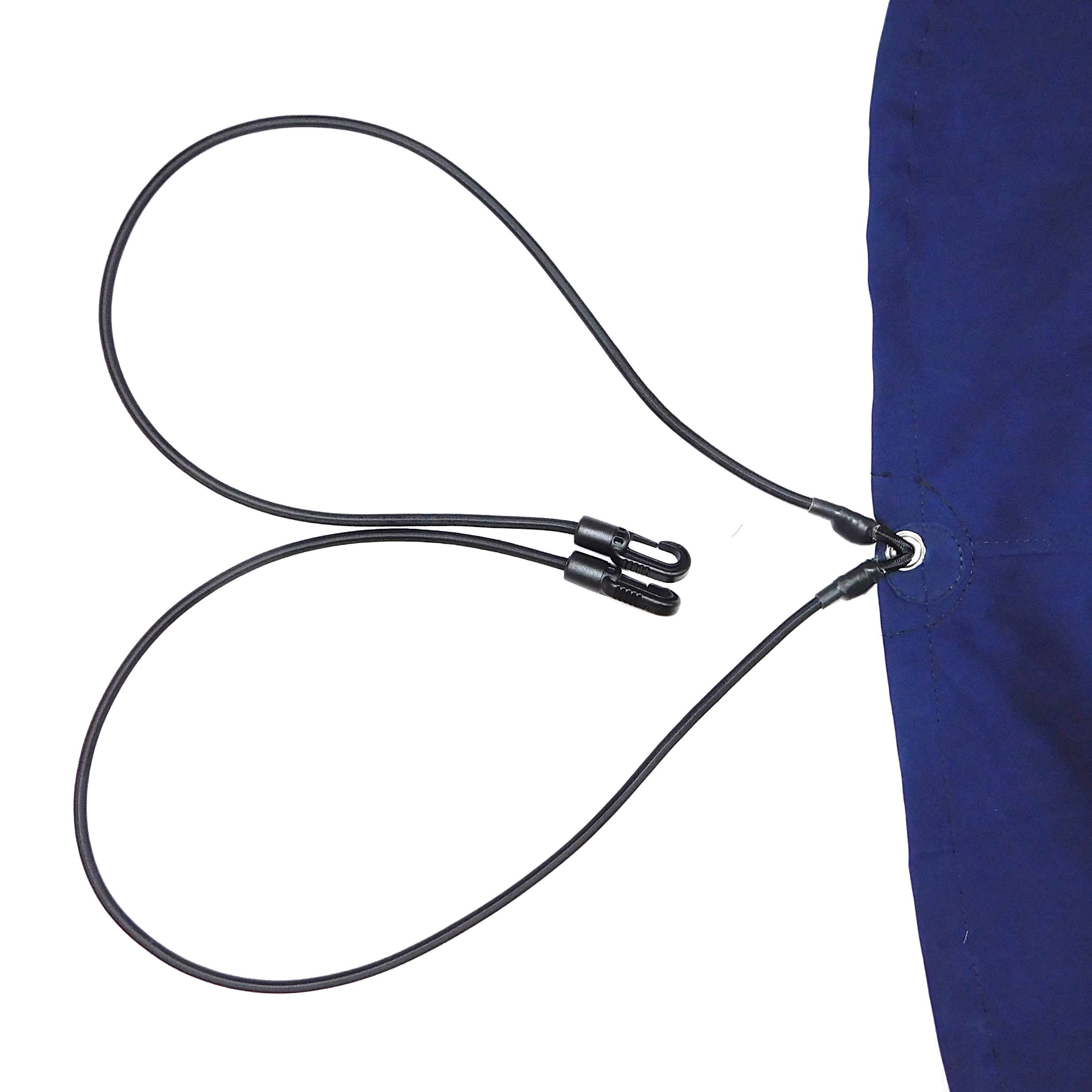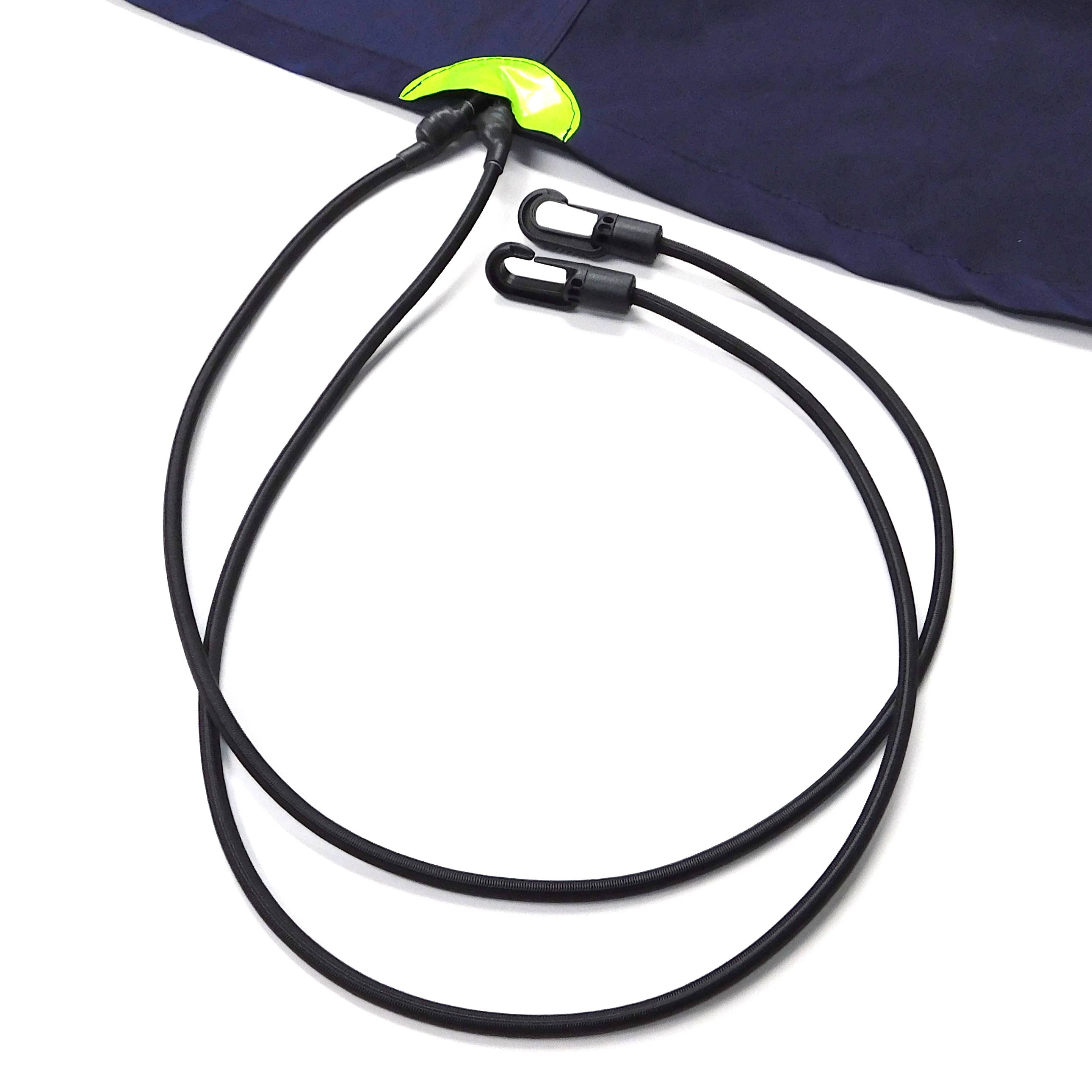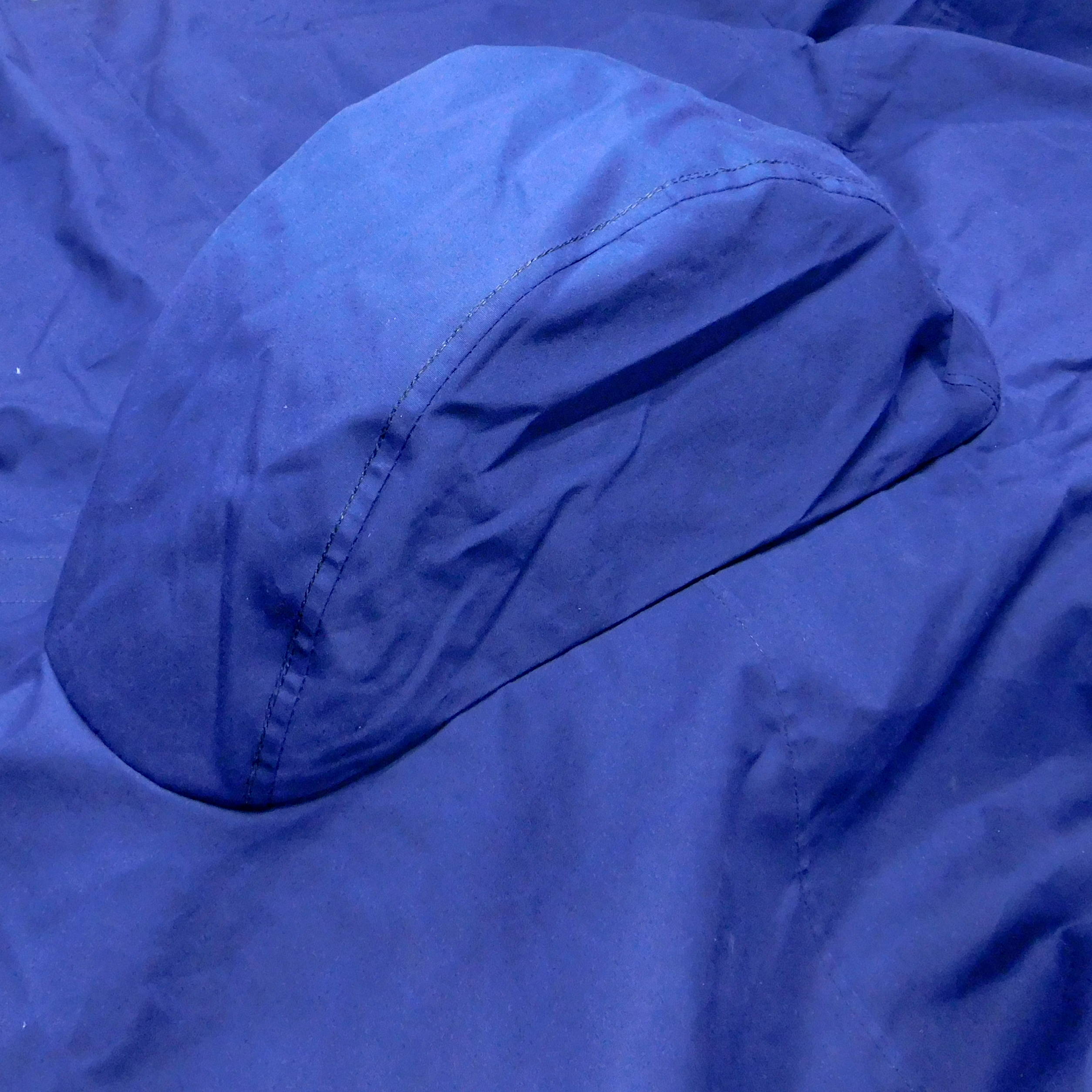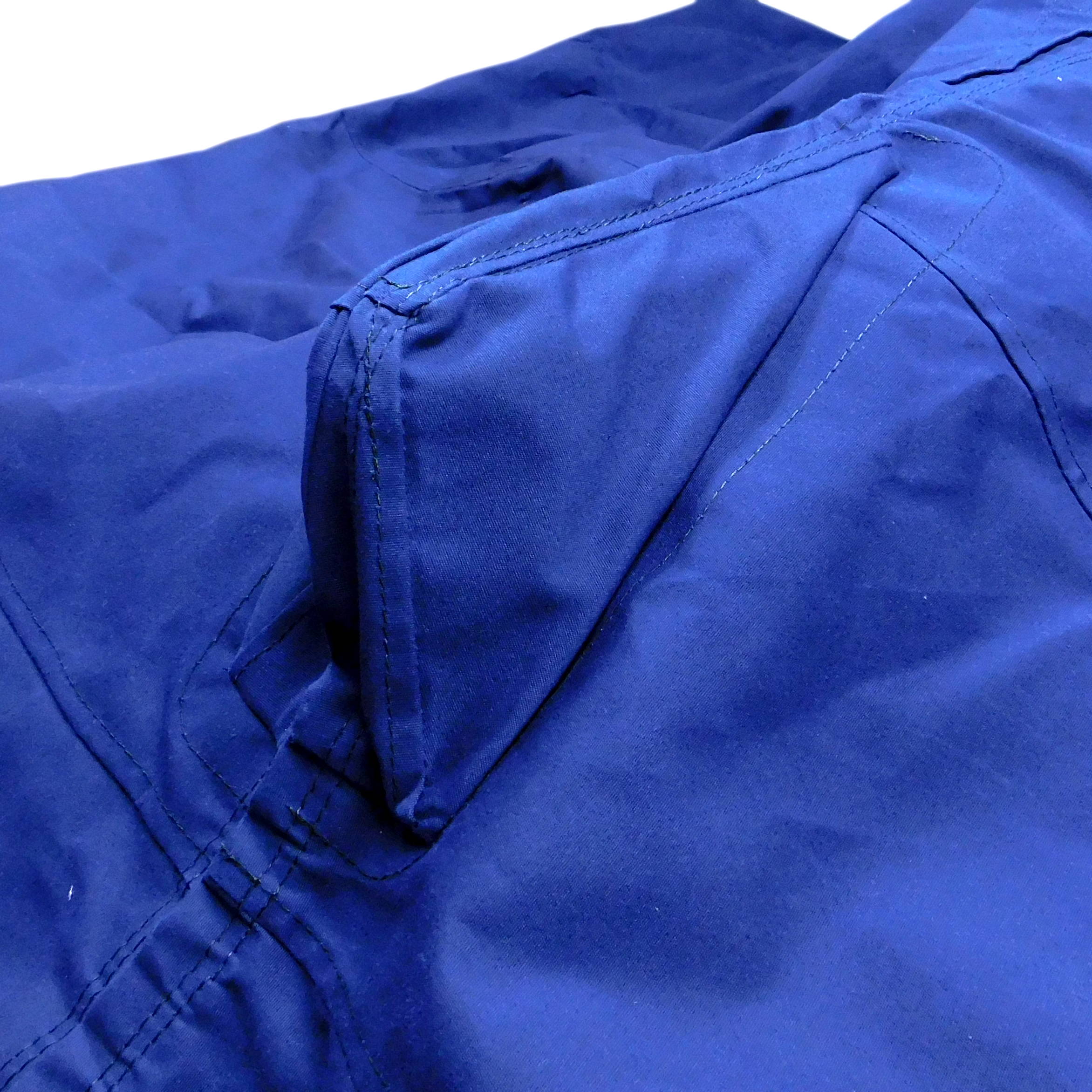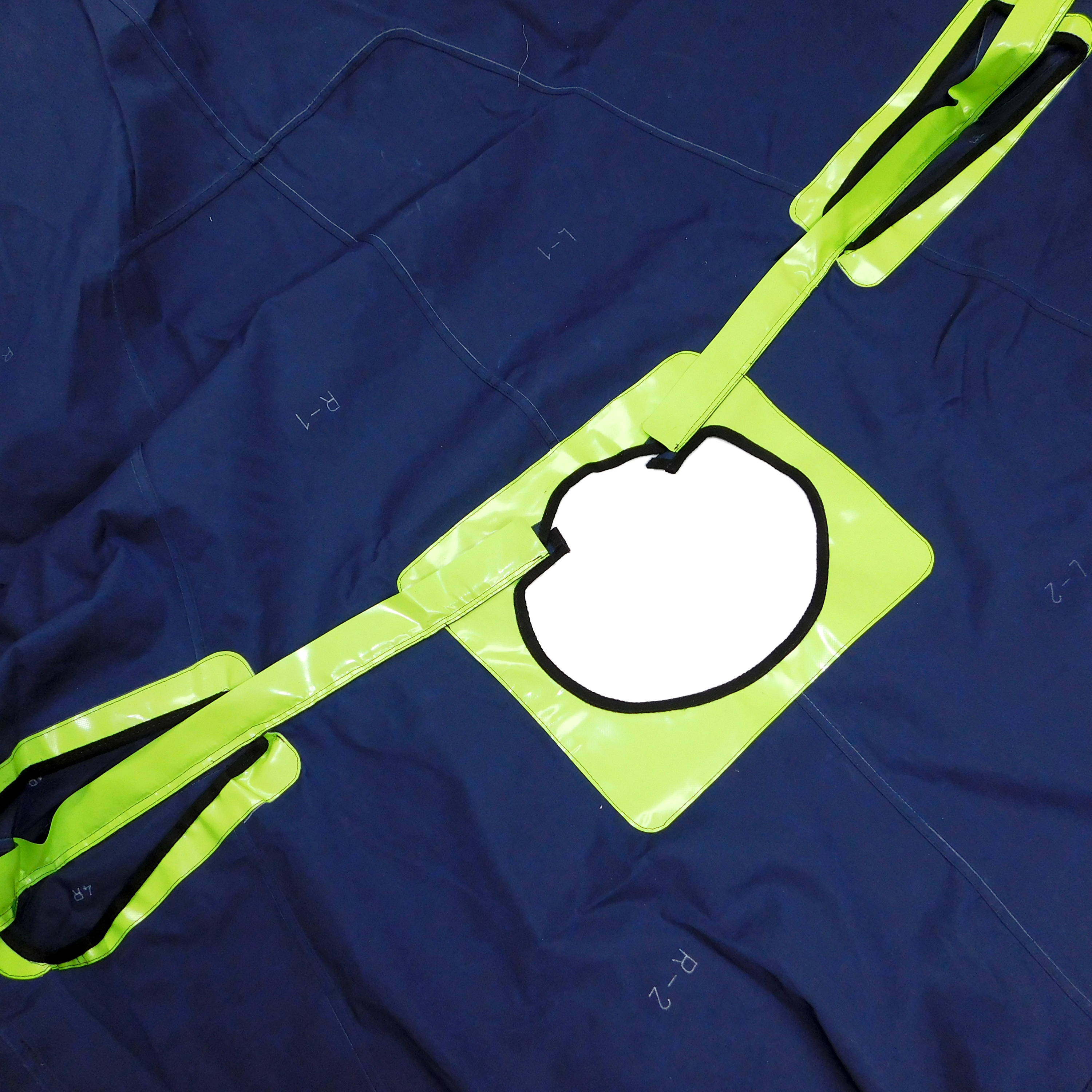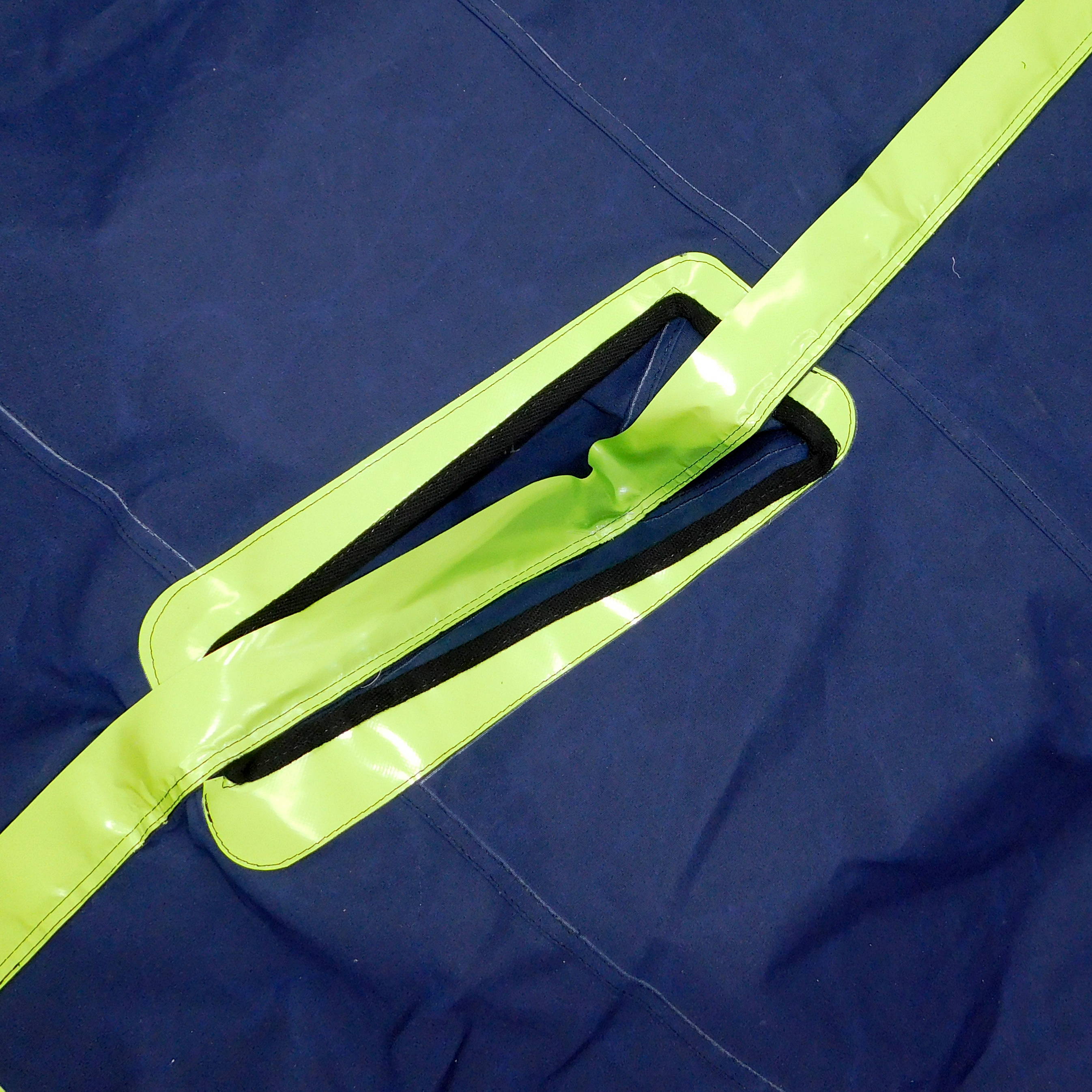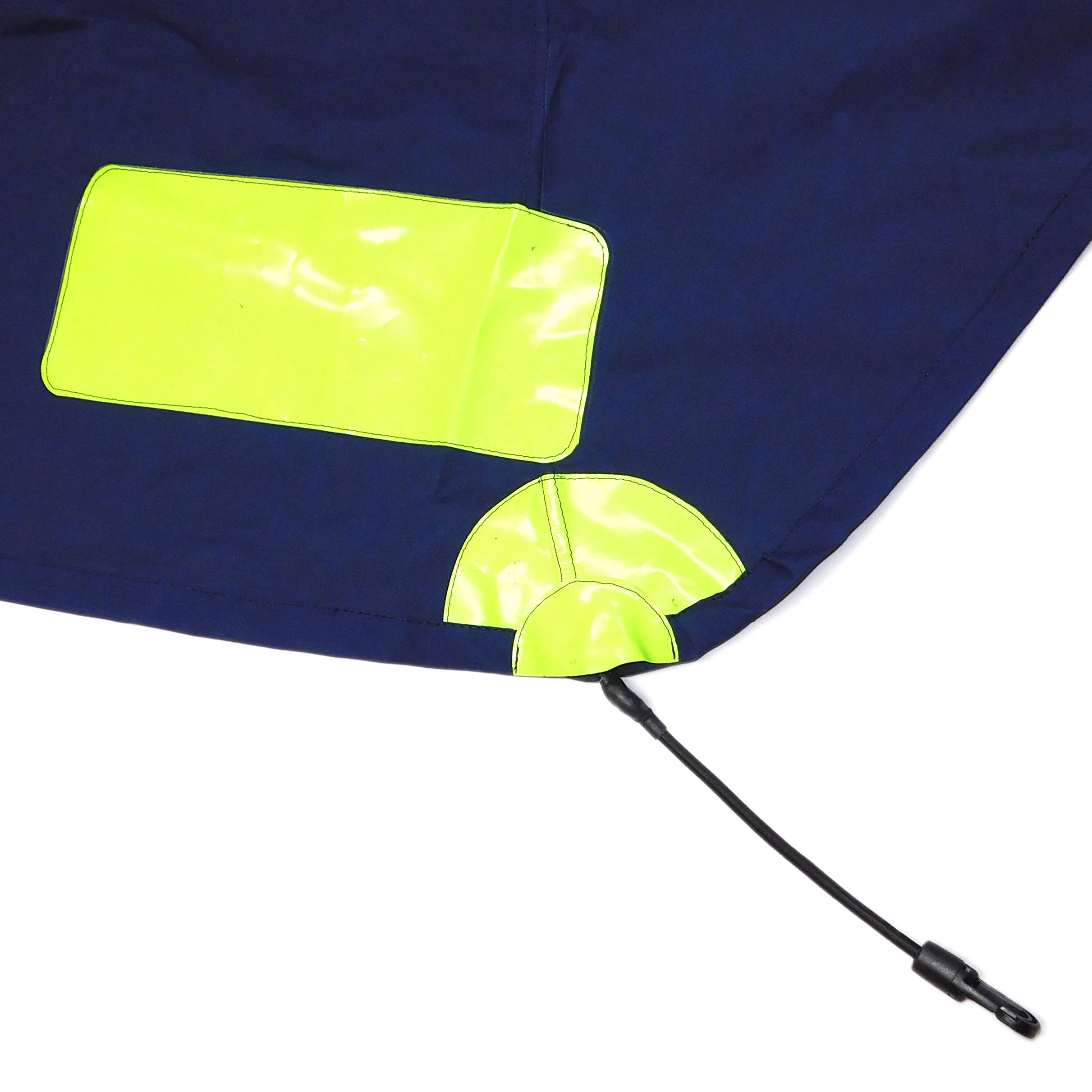 The sidestay of this boat is located inside the gunnel, so attachment holes are designed with holes drilled on the inside. We have made it possible to attach and detach the furling jib sheet without removing it, thereby reducing the time and effort required for attaching the cover. In addition, a buckle is attached to the opening of the zipper to prevent it from flapping and coming off.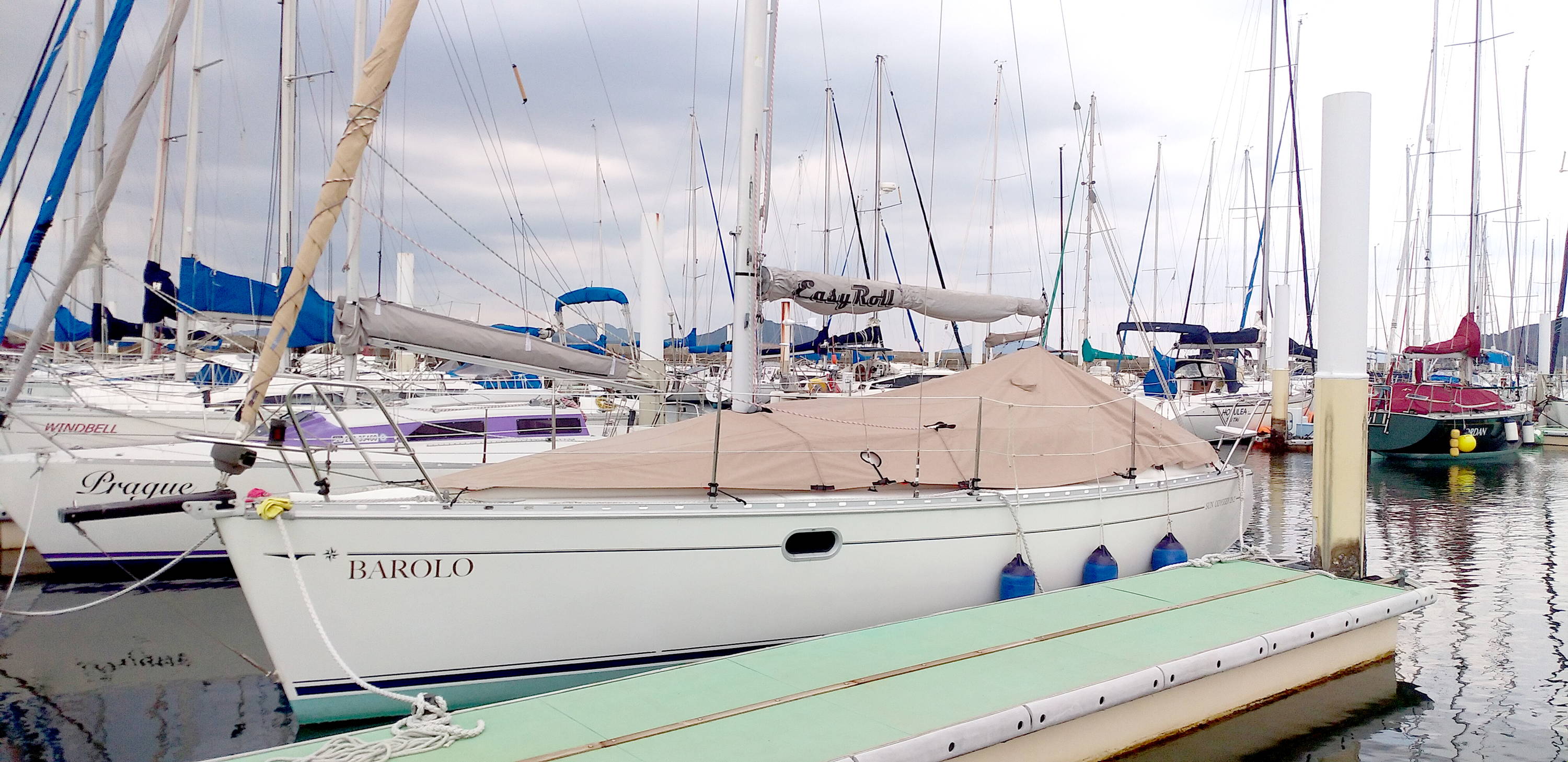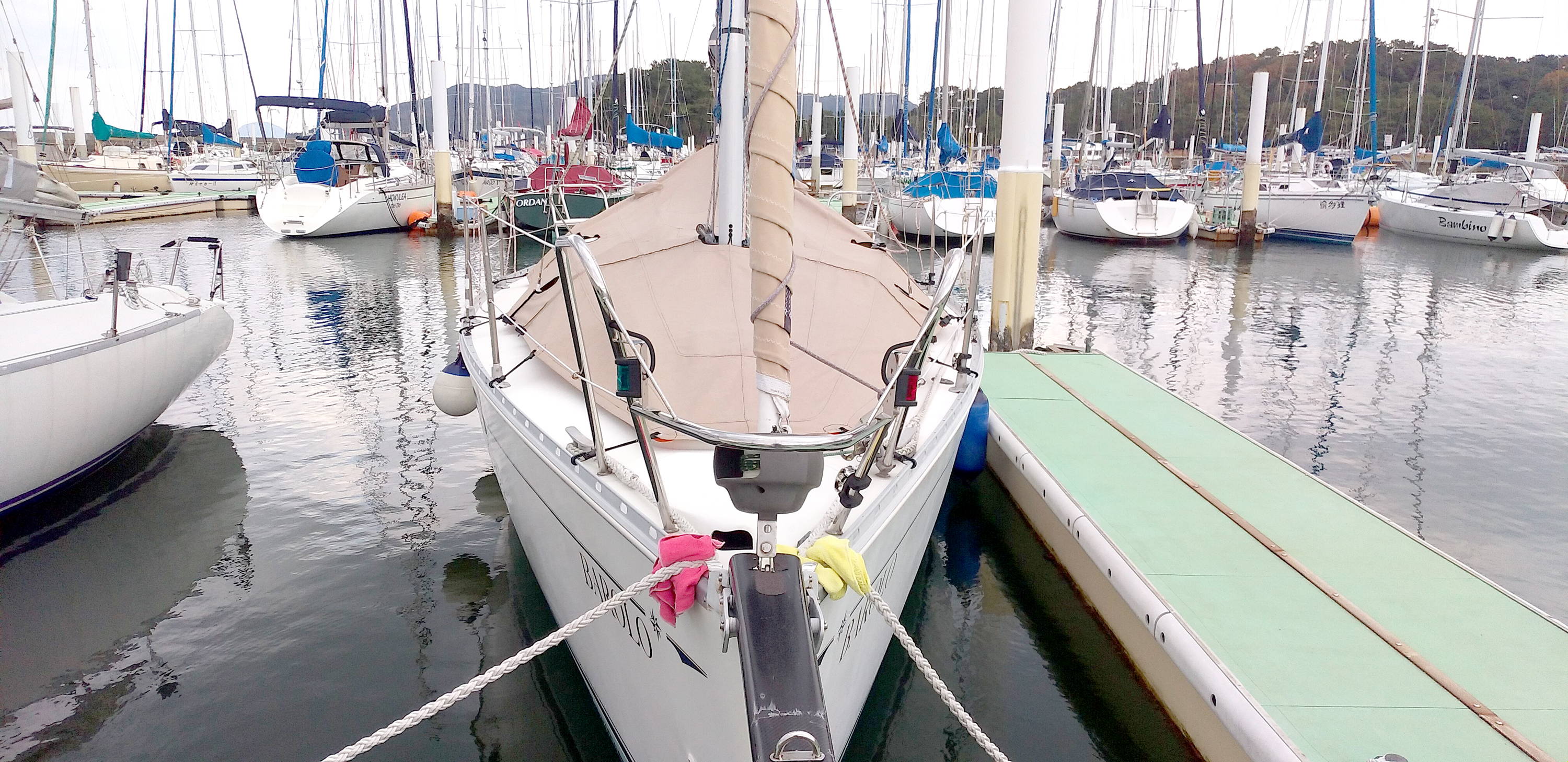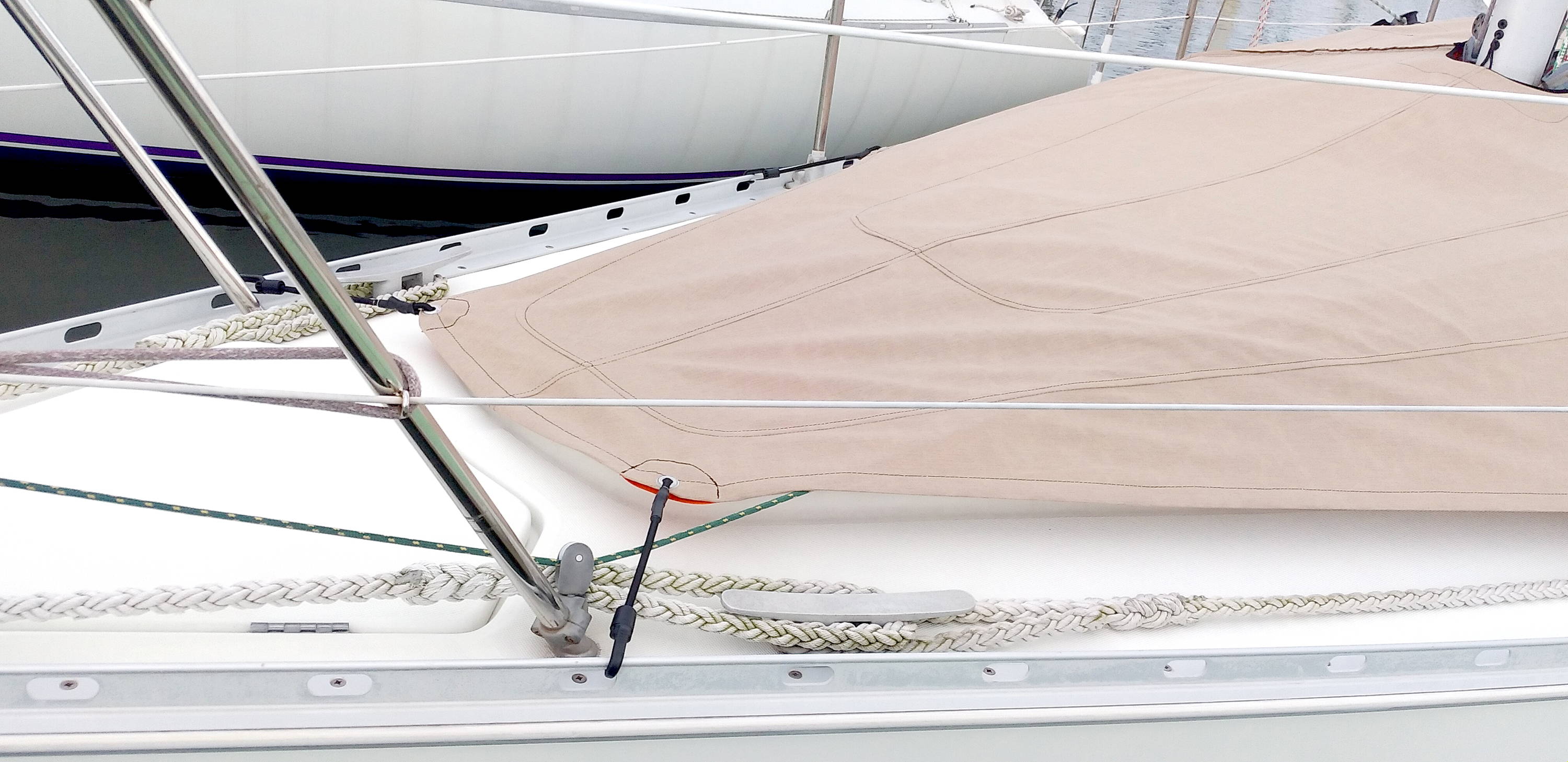 Wide variety of fabrics for different purposes
Sauleda Seastar is ideal for deck covers and other situations where covering an area may cause poor ventilation. This is because the fabric is waterproof (360mm: about the same as a nylon umbrella) but breathable at the same time. Sauleda Seastar is made of the same acrylic fiber as Sunbrella's marine fabrics, but Sauleda Seastar is more densely woven and has better durability and shape retention. It is also cheaper than Sunbrella fabrics. The Sauleda Seastar series are core fabrics within our weather-resistant fabric lineup, and we highly recommend it.
The specifications of the fabric itself are exactly the same as Sauleda Seastar Normal, but Sauleda Seastar Special has a PU coating on one side of the fabric. This enhances its waterproof feature (1,000mm). We recommend these for areas where there are sufficient ventilation layers underneath the covered area, such as bimini tops.
It is not that Sauleda Seastar "Normal" is inferior compared to Sauleda Seastar "Special" or that Sauleda Seastar "Special" is superior over Sauleda Seastar "Normal". If Sauleda Seastar Special is used on areas that have poor ventilation or sealed areas, the interior can become stuffy and grow molds, so please select the appropriate fabric depending on your needs.
MONZA is a PVC-coated tarpaulin fabric. Since it is completely covered with resin, it is water-impervious and extremely durable. It can be used for T-tops and for similar purposes, but in most cases, it is too heavy for boat covers. This fabric can be used as a single piece or as a partial patch. While acrylic fabrics are weather resistant, they are not abrasion resistant, so we recommend using MONZA to reinforce the back of the cover where winches and other rigging items may come in contact with.
Sauleda DUO cherry-picks the good parts of each fabric, by PVC-coating one side of the acrylic fabric. When the acrylic fabric side is used as the front side, it demonstrates UV resistance and will provide a high quality look and feel. Not only is the PVC-coated side perfectly waterproof, it is also rust-resistant and when used for biminis, it also provides heat shielding and cool shade to some extent. The width of the fabric is 204 cm, which is wider than other fabrics. Although it is not as heavy as MONZA, it is still quite heavy, so we recommend using this for roofing rather than for places that require frequent removal, opening, and closing.
What are the types of the eyelets?
We only use special Rutgerson eyelets: The best and durable eyelets
Rutgerson is a Swedish hardware manufacturer with a 60% share of the global market for sail hardware. The thin, long and numerous teeth of the special SUS316 "Super Ring" eyelets can be fixed to the fabric as if it were sewn with a needle, without causing unnecessary damage to the fabric. The radial spread of the teeth also serves as a load distributor, making it strong and durable.
What are the types of zippers?
YKK Vislon Zippers: Unlikely to be jammed
YKK Vislon Zipper No.10 is used. The teeth and end parts are made with a cast. The slider is a "non-locking" type which does not jam even if salt or other substances crystallize. It can be laid out to meet various needs, such as having pull tabs on both the front and reverse side, or installing two sliders.
Zipper covers are included in the zipper cost. Zipper covers are designed to protect zippers from UV rays, sand, dust, salt crystals, and other small substances. In the photo above, the zipper is covered with a Velcro flap and a gusset made of folded fabric. Of course, the back side is protected with patches.
Can you install hardware?
Wide variety of hardware available
We offer a wide variety of weather-resistant hardware such as snap buttons and twist fittings. YKK Snads, which allow snaps to be attached to flat walls without drilling, are also popular. In addition, we can offer various other solutions for demounting and opening/closing, such as German LOXX button zippers, depending on the type of substrate to be fixed and the purpose.